An in-depth look at the new Shimano EP8 motor
Shimano have revealed the next stage of their e-MTB evolution with the EP8 motor officially announced to the public on Tuesday (AEST). 
The Japanese brand, so often at the forefront of mountain biking technology over the past three decades, said it intended the EP8 system to set a "new benchmark in system-engineered e-bike components that can tackle everything from premium mountain biking and competition racing to trail riding, cross-country, casual MTB, trekking and off-road adventuring." 
In addition to the new motor and battery options, Shimano have also unveiled new and improved mobile apps, the E-TUBE RIDE and E-TUBE PROJECT. 
TheEP8 essentially builds on the impressive foundations laid by its predecessor, the STEPS E8000. The new drive unit can generate 85 Nm (Newton-metres), that's about 21% more than the E8000. That combined with a 2.6kg weight (300g less) due to the new magnesium drive unit casing has led Shimano to proclaim the EP8 as "one of the best-in-class drive units in terms of power-to-weight." 
But an increase in power doesn't mean much if the battery can't take it. There are two options to choose from, the 630 Wh batteries (downtube BT-E8016 and internal BT-E8036) or the 504 Wh internal BT-E8035-L. Bikes such as Merida's e-ONE-SIXTY will utilise the former internal. 
The 630 Wh will handle the job but there are a raft of other changes Shimano have made in the quest for efficiency. Drag, mostly felt when pedalling without assistance, has been reduced by 36% compared to the E8000.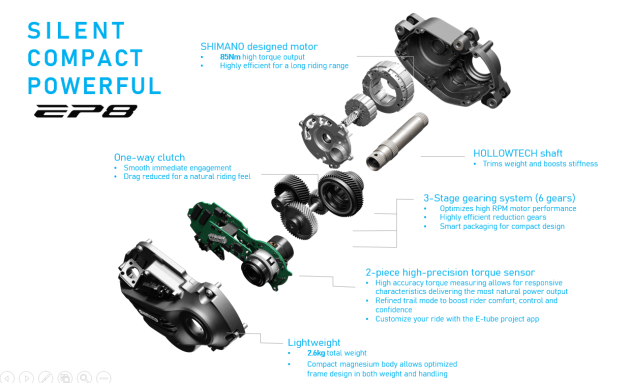 Other notable features of the EP8 include: 
Dedicated cranks available in 160mm, 165mm, 170mm and 175mm lengths. 

Compatibility with mechanical shifting (9/10/11/12-spped) gear systems, Di2 (11-speed) systems and internal hub gear (11/8/7/5-speed) systems. 

Not much has changed aesthetically for the EP8's display although there are some important software improvements. One such addition is the new drive unit assistance switch. Riders can choose between Off/Eco/Trail/Boost modes plus a walk assist function. It's also compatible with dropper post levers.  
Launching alongside the EP8 motor are two apps from Shimano, the E-TUBE PROJECT AND E-TUBE RIDE apps. 
The E-TUBE PROJECT allows riders to customise settings, update firmware and check for system errors. Each power assist level (Eco, Boost and Trail) can be tweaked allowing for 10 different levels of assistance between 20-85 Nm. So, whether you simply want more control or are trying to maximise battery life on those long rides, you can easily adjust via the app. 
You can also make up to two rider profiles with preferences saved. In addition to being able to alter assistance levels, shifting settings and assist switch functions can also be customised. 
The E-TUBE RIDE app meanwhile tracks your ride, showing speed, gear, time, distance and remaining battery. New functions include live maps and ride history. 
Both apps are available to download from Apple and Android stores now.