Caroline Buchanan seriously hurt in vehicle crash (UPDATED)

Superstar BMXer, two-time Olympian and current 4X MTB world champion Caroline Buchanan has been seriously injured in a vehicle crash in Canberra. She suffered a broken sternum, nose and colloapsed lungs in the crash, which appears to have taken place in late December.
A report in the Adelaide Advertiser suggests that Caroline and a friend were aboard an offroad vehicle on private property when the accident happened.
An Instagram post from Caroline - who is also a sponsored downhiller - confirms that the Canberra-born racer is out of intensive care, and is in her own room in what appears to be a NSW hospital.
Another post from fiance Barry Nobles  - who wasn't in the vehicle with Caroline - shows Caroline attached to a lung-draining pump, as well as sporting multiple grazes and facial injuries. She's expected to make a full recovery.
"It's been a rough couple of days in ICU after a vehicle roll," the 27-year-old said. "I just moved to a private room and everything is moving in a positive recovery direction."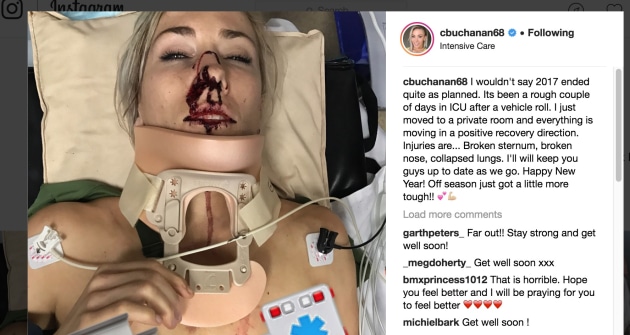 Caroline is currently in Australia with Barry, a British-born pro BMXer. The two live for most of the year in California. Caroline was expected to attend the Tour Down Under later this month in her role as ambassador for car brand Subaru, but this now looks pretty unlikely.
Her BMX season starts in Febraury, with the UCI BMX World Cup starting in France in early March.
We wish Caroline all the best for her recovery!