Kiwi controversy at Comm Games XC
It was a controversial end to a sizzling men's cross country race at the Commonwealth Games in Brisbane, with New Zealand's Sam Gaze stealing the win from compatriot Anton Cooper in a sensational last lap.
Gaze retook the lead he had held for most of the race, but only after a tech stop that compromised Cooper and third-placed South African rider Gary Hatherly, and a pass that resulted in contact between the two riders before the penultimate descent. The two refused to acknowledge each other at the finish of the race.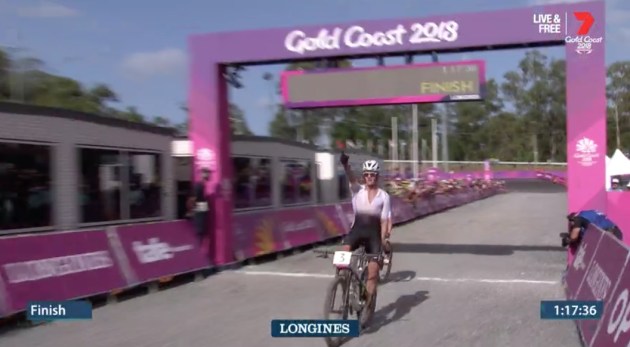 Canberra cross country ace Dan McConnell was Australia's only representative, and has been battling illness over the off-season. That lack of preparation came back to haunt the defending Comm Games bronze medallist early, dropping to eighth spot early on as Glasgow 2014 winner Cooper and silver medallist Gaze, along with Kiwi youngster Ben Oliver, drove the pace over the rocky Nerang track.
The three Kiwis set a blistering pace until Hatherly made a break for it after a bobble from Oliver upset Cooper, dragging Gaze into a mid-race tussle that saw the two exchange the lead until the Kiwi duo caught back up.
Oliver faded from the lead battle pack, as McConnell slid to as low as ninth in the 21-man field as the three at the front battled around the 4.5km track.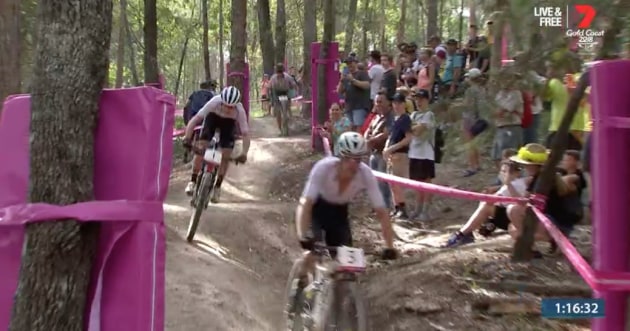 As the race reached its last couple of laps, Hatherly – visibly tiring - was more than happy to let the pair of Kiwis do the bulk of the work, as Oliver lost more time to the lead trio and McConnell rallied to regain eighth spot.
Drama unfolded as the trio started the final lap, though, with Gaze abruptly pulling up from the lead outside his tech tent to get a top-up of air for a leaking rear tyre, which caused Cooper and Hatherly to check up behind him.
Cooper recovered quickly, though, and grasped his opportunity to put a time gap into his arch rival to defend his 2014 gold medal.
This infuriated Gaze, who was photographed gesturing, erm, rudely to his departing rival as he waited for a top-up of CO2.
Cooper put the hurt on an ailing Hatherly as Gaze sprinted like a man possessed from a distant third to bridge the widening gap.
Gaze quickly dispatched the South African to claim back second and absolutely pinned it up the penultimate climb to get back into contention, tripling jumps and taking big chances as Cooper tried in vain to resist the World Cup leader with just half a lap to go.
It was to no avail; a cheeky pass on relatively neutral ground before the last technical descent saw Gaze take his revenge on Cooper to claim a relatively easy gold, with Hatherly hanging on for a valiant third.
Post-race celebrations were very muted, though, with Cooper's camp seemingly taking umbrage with the pass - and possibly the way Gaze dismounted to repair his flat tyre. On Gaze's side, the decision by Cooper to attack after a mechanical didn't go down well, either.
"There is good sportsmanship and there's not, and I feel like that wasn't there today. It's a bit of a shame really, I've got the utmost respect for the guy, still, even with that move," Gaze told stuff.co.nz.
"That's racing, you can't get along with everyone."
"It's not my job to sit around and wait at that point, that's mountainbike racing, and I thought at that point I was going to have to get rid of South Africa if I wanted a chance at winning so I dropped the hammer up there," fired back Cooper.
Dan would end up scrambling back up to seventh, about a minute behind the winners.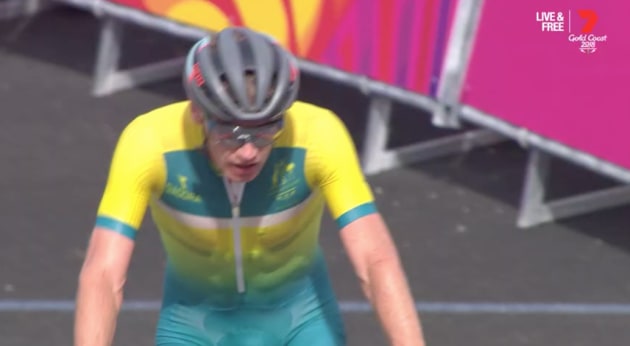 His wife Bec McConnell, meanwhile, faded from medal contention in the women's event early, finishing sixth in the 12-strong field. England's world number two Annie Last took the gold medal, with compatriot Evie Richards claiming silver.