Philip Ruddock rides Hornsby... sort of
We know that mountain biking has a wide reach, but did you know that Australia's former Attorney General Philip Ruddock is a trail shredder extraordinaire?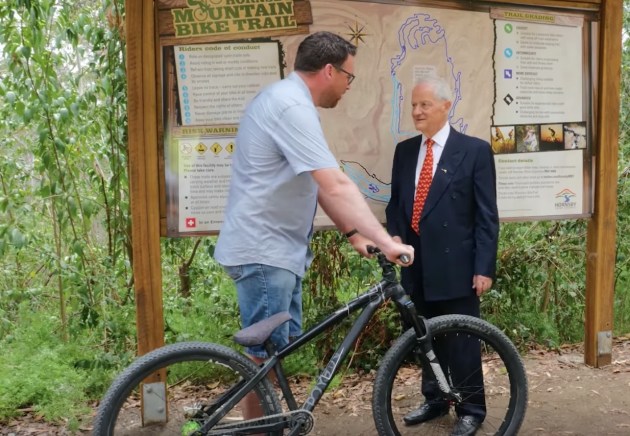 The 74-year-old former Liberal minister - who is now the Mayor of Hornsby Shire - showed off his mad skills on the newly overhauled Hornsby Mountain Bike Trail  (which looks pretty awesome for a trail-starved Sydney Basin). Impressive, Mayor Ruddock!
(Yeah, okay, we know it wasn't him.)
The Hornsby trail has been reconfigured to allow the nearby Hornsby Quarry to be rehabilitated without disturbing riders. The reconfiguration of the trail cost more than $500,000, several times more than the cost of its original construction.
The mayor said that the council came close to closing the trails all together, but consultation with the NSW Government and NorthConnex project leaders - who are providing rockfill to rehabilitate the quarry - saw the trails re-routed insterad of abandoned.
"It's extremely important that the mountain biking community understand the significance of what has occurred here," Mayor Ruddock said.
"It would have been much easier for us to close the trail for a few years while the rehabilitation works occurred and we came very close to doing that. However, we have seen the passionate connection between the riders and this trail, so we went all out to keep it open."
The trail remains at its original length of six kilometres and now incorporates two tunnels that carry riders underneath the quarry rehabilitation site.
Our tip? Thank the good pollies of Hornsby for saving a set of trails instead of abandoning them by getting out there for a ride!
Hat tip to reader Paul Cohen for the heads-up!