GT Sensor Comp
If you grew up riding mountain bikes in the late 1980s and 1990s, GT is a name that can't help but evoke affection. It was one of the biggest names in mountain biking, producing some of the best early full-suspension bikes using the RTS and then the LTS system, before the untimely death of co-founder Richard Long in 1996.

However, changes in ownership in the years following Long's death saw the brand fall into the doldrums: a place from which it's been clawing its way back from over the last few years.

The mid-travel Sensor is one of two new platforms for the 2019 model year, alongside the longer-travel Force.
Both models see the return of an updated version of the LTS suspension linkage, along with a modern geometry that embraces the long, low, slack movement. Can GT recapture the glory days of the 1990s by marrying the best of old and new?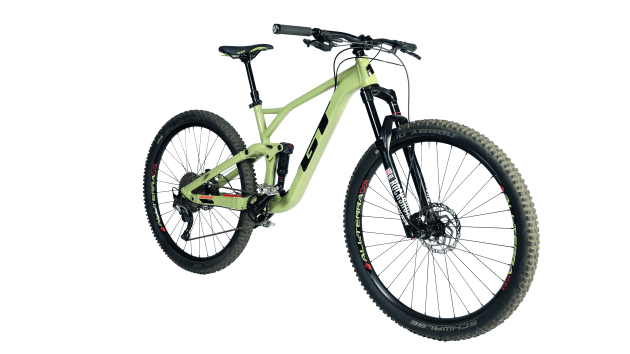 In the stand

The Sensor Comp model sent to MBA is one of four models in the Australian range, starting with the alloy Sensor Sport at $2,999 and topping out with the carbon Expert model at $5,999.
The Sensor is firmly targeted at the 'versatile trail bike' segment, with 130mm travel front and rear, married with 29-inch wheels. It's definitely the kind of bike that's intended to take on technical riding one day, then be pressed into use at an XC marathon the next.

The Comp employs the same alloy frame as the Sport, but is equipped with a Shimano SLX groupset rather than 11-speed SRAM NX, a Rockshox Deluxe R shock rather than the X-Fusion shock, Shimano brakes instead of Tektros, and an All Terra dropper post. That enhanced spec will cost you an extra $500, with the Comp model coming in at a respectable $3,499.
Geometry-wise, the Sensor is firmly in the progressive geometry camp, with a slack enough 66-degree head angle, steep 76.5-degree seat tube, short 430mm chainstays and a reach of 450mm on our medium test bike.

Like most other current trail bikes, however, the Sensor features a so-called flip chip that lets you change the geometry. Choose the low setting and those numbers change by half a degree to a head angle of 65.5 degrees and seat tube angle of 76 degrees, while shortening the reach by 445mm. The numbers alone suggest a bike that marries up a good deal of responsiveness with a confidence-inspiring descending position. Like most other modern trail bikes, the Sensor also uses Boost wheel spacing, a metric shock and a threaded bottom bracket.

The big news is the return of the LTS (Linkage Tuned Suspension) platform. It employs a trunnion mount shock with a four-bar linkage that GT says provides improved braking performance, better bump absorption and better traction. It also employs a progressive leverage ratio to provide a "smooth, controlled and predictable ride," according to the literature. The return of the trunnion mount also means that bottle mounting options are much improved, with plenty of room for a bottle in the main triangle while keeping water weight nice and low.

The equipment spec is pretty solid for a $3.5k bike, albeit nothing spectacular. The aforementioned Rockshox Deluxe R shock is paired up with the (vastly improved) new Sektor RL fork. The addition of a DebonAir spring and the Motion Control damper to the Sektor has certainly made it a much more viable fork for affordable duallies, although I would argue that a fork with 34mm or 35mm stanchions like a Revelation or Fox 34 Float Rhythm would have been a better option for this style of bike.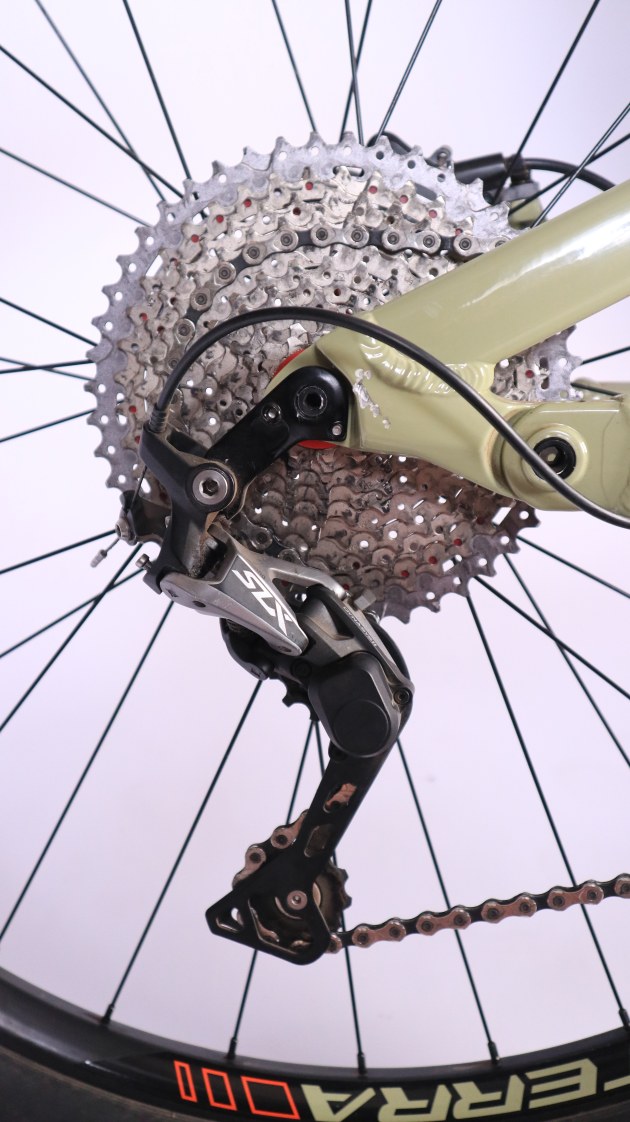 The 1x11 Shimano SLX groupset is a solid choice for this style of bike, although it would be better to see a Shimano cassette rather than the SunRace cassette as specced. It's an easy upgrade to make once the SunRace cassette wears out, though. The Race Face Ride Cinch crankset is a solid option which provides for plenty of chainring options: the 30t supplied mates nicely with the 11-46t cassette to provide a decent gear range for most situations.

Brakes are the entry-level Shimano MT400, with 180mm rotors front and rear, which are a reliable brakes with reasonable amounts of stopping power.
All Terra Tall Flange Alloy hubs are mated to reasonably wide tubeless-ready Alex MD27 rims. Schwalbe Nobby Nic 2.3-inch tyres close the deal, providing a versatile wheelset that could be pressed into XC and more heavy-duty trail use – although I'd argue that the current setup is more targeted towards the XC end of the spectrum.

I would be swapping out the hub bearings for some higher quality ones: the rear hub bearings on our test bike (which had been used as a demo) was already showing signs of wear – an easy fix, but still annoying in a relatively new bike.


Last but not least, a minor gripe about the cable routing. GT has chosen to externally route the rear brake hose, derailleur and dropper post cables on the top of the downtube and under the bottle cage. Great for stopping mud and crud covering your cables, and easy for home mechanics to fettle; however, any adjustments also require you to loosen the bottle cage as it essentially clamps the cables in place.

This is a particular pain when adjusting saddle height, as the dropper post is very sensitive to cable tension. If you don't loosen the bottle cage and feed the cable through properly your dropper could stop working altogether. It's only a minor gripe, and not something that should be an issue once you have your saddle height dialled in.

On the trail

On a relatively flowy XC-style trail, the Sensor Comp is a lively machine, especially in the high setting. I had been concerned that the slack head tube angle could translate to some floppiness in the front end around tight turns, but these fears turned out to be unfounded – steering was precise and responsive.

This is partly because the Sensor puts you in a powerful, 'over-the-bike' position that encourages you to attack berms and inclines. Indeed, despite the relatively lengthy geometry on paper, the top on this bike feels remarkably short, and much more in tune with an XC bike than a longer-travel trail bike, thanks to that steep 76-degree seat tube angle.

However, put the Sensor on more technical terrain and it's a different story. Despite the slack head tube angle, it never felt planted enough when going over steeper terrain or through rock gardens. Adjusting the bike to the 'low' shock setting improved things somewhat, but I'd still find the occasional point where the bike was trying to buck me forward on steeper or rougher terrain.

On the plus side, the LTS linkage is as efficient as GT say it is. It ate up flowy terrain, especially when I wound off some rebound damping, and it was reasonably responsive over the rougher stuff, if a little less lively. Obviously, a higher-end fork and shock combo would make a huge difference here, although I was really impressed with the Sektor's performance. In fact, the suspension design itself is solid.

I was less enamoured with the 120mm All Terra dropper. I found it slow to respond, both when dropping and returning. There are a lot of really good, low cost dropper posts on the market at present so I'd be looking to remove the stock dropper and replace it with something quicker (and ideally with a touch more drop).

My next 'upgrade choice' would definitely be the wheels, especially for more technical use. While they were responsive enough under lighter trail conditions, I found myself wishing for wider rims and more meaty rubber when trail conditions got tougher. The good thing about the wider Boost spacing is that it allows you to put on wider tyres – I'd definitely be looking for something with a wider rim profile (30mm-plus) and 2.5-inch rubber to take on tougher trails.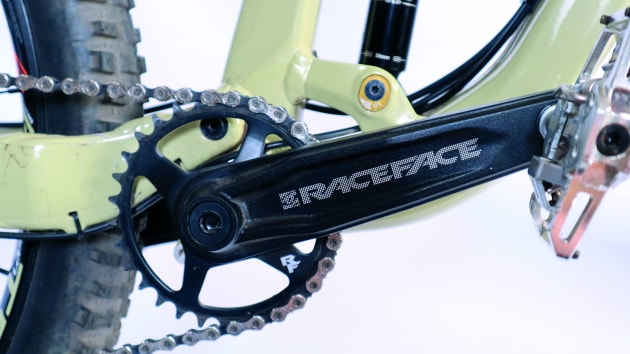 Verdict

I wouldn't be an honest reviewer if I didn't admit that I struggled to like this bike, at least to begin with. It took me several rides to uncover its character and really understand it.

Admittedly, building the perfect all-rounder bike is a pretty tall order: no one expects an all-mountain bikes to climb like an angel, nor do they expect an XC bike to allow them to descend like Troy Brosnan. The all-rounder, though, has to be all things to all people.

The GT Sensor Comp does a pretty good job of ticking the versatility box. It's perfectly set up for the rider who's mainly carving up green or light blue trails, and who wants a bike that will react responsively while providing some extra confidence when conditions get a little rougher.

However, if you're planning to take on more technical terrain on a regular basis, then some wider rims, fatter rubber, and plusher suspension (and the flip chip set in the low position) would no doubt make it a more enjoyable experience.