Southern Freaks: Part I
We all have visions, grand designs if you will. Daydreaming at work thinking wouldn't it be great if… oh it would be so cool if…

For most people that is where it stops. Reality kicks in and we turn back to our daily commitments placated by a weekend's blast with mates on the trails to keep us sane. Staring at a roadhouse burger being assembled 'with the lot', I couldn't help comparing it to the event we'd participated in over the weekend. Sure a burger can be fine, sticking to the basics, but why not add some cheese? Then you may as well add tomato, bacon, beetroot, pickles and an egg.

Albany's Southern Peaks event in Western Australia is the mountain biking equivalent of the burger 'with the lot' (and a side of chips). The state's best Dirt Jump competition? Why not? Oh how about an Urban Downhill through town? Sure! A kid's race on a specifically designed kid's challenge course? Yup, throw it in. What about a point to point 50 km XC race through remote bush and town? We'll attempt it all!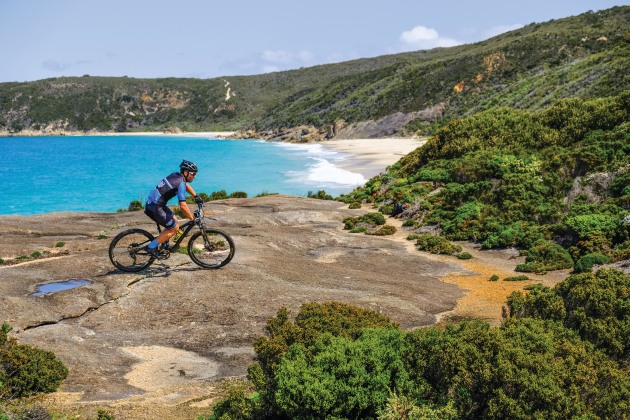 The Southern Peaks event is held on the long weekend at the end of September, almost a month before the commercial behemoth that is now the Cape to Cape MTB event. While on a map they look to be in similar locations, Albany is on the South Coast whilst the Margaret River area where the Cape to Cape is held is 360 km west of Albany on the West Coast. The riding is also very different. Albany is dominated by granite with massive rocks defining the town and making it a very unflat place in a very flat state. Being 400 km south of Perth, there are a bit of logistics required to make the weekend happen. I'd been asked to cover it for the magazine with the offer to race if I wanted. I'd said yes and also said my wife would like to race and she was duly entered.

Now I'm sure I told her this, but on the Wednesday night before leaving there was an awkward moment when her vision of a relaxing weekend of hotel breakfasts and café hopping was replaced by my sweatier version. At that point I thought it best not to mention the Highrollers on her 'race' bike. I was 'racing' as well and my bike was rolling 1kg Minions, camera and a drone in my backpack. A podium finish was off the cards.

The event itself started in 2014 and grew out of some local's idea of an Urban Downhill which was very workable; having a lot of the town perched on the steep sides of Mount Clarence with bush and trails above it. But in a town that gets 80% of its electricity from the adjacent wind farm, life can be windy and rainy. It sometimes feels like you are in New Zealand; pouring rain, sunshine, windy, lunchtime. But when the weather turns on its charm, it rivals the prettiest places in Australia. From the original Urban Downhill event, there were Dirt Jumps added and kid's racing which was well received by the community.


These markets are somewhat niche, especially when they're 400 km from the capital city, so in 2016 a Cross Country race was added. A couple of years with a marketing company at the helm running the event as Southern MTB, the local MTB community decided to take back the event in 2019 and rebranded it as Southern Peaks.

We slipped down a day earlier as we'd heard that Todd Meyn was in town doing some jump demonstrations at local schools. We met Todd and Jordan Prochyra at Bob's Bikes, one of the local bike shops. Todd, with a black eye and slightly swollen face, looked like he'd been cage fighting rather than BMX jumping. Todd, originally from Perth, had joined the Nitro Circus on his BMX touring the world as an extreme athlete which seemed to also involve extreme bruising. Jordan was no slouch either, having previously won Albany's Urban Downhill event and was one of the state's quicker riders. A short trip took us to Yakamia Primary School. It was the last day of term and as the kids were herded down to the oval where an inflatable landing ramp was pumped up, Todd and Jordan started doing some jumps, flips and twists.


To say the kids were excited would be a gross understatement. The sound level was intense and after Todd chucked a couple of double backflips the place was in a frenzy. To be honest if Santa Claus rocked up riding the Easter Bunny it would have been an anti climax. A mega autographing session ensued, which also involved students signing Todd's bike frame for him. As the teachers finally herded them away I felt sorry for anyone trying to get the class down for a midday nap. With the last of the kids gone, the jump was being deflated when the ladies from the front office turned up. "We couldn't leave the front desk, can we see some jumps?" Luckily Todd loves his job and in minutes the jump was back up and he was backflipping for the staff. With the hectic hour finished, the jump was packed up. "Right, now only two more schools to go!"

Saturday was at least a casual start to the day, with a midday beginning to the XC race allowing some riders to day trip it from Perth. Starting at the stunning Maitraya Private Retreat, riders headed west through farmland glimpsing the stunning coastline before turning inland into rolling sandy scrubland. There were no issues with singletrack bottlenecks and the field spread nicely out along the trail. The AFL Grand Final was on as riders were on the course, but the two local teams had been kind enough not to qualify meaning the riders were free to focus on the job at hand.


The sandy scrubland terminated at the water's edge, forcing riders into a boat to be ferried over to Emu Point. From here, riders continued along Middleton Beach before taking in some spectacular bike paths around the headland climbing onto Mt. Adelaide and Clarence. Riders without technical handling skills were punished in several sections with a follow up climb onto Mt. Melville, testing riders' stamina and technical chops with fatigue setting in after 1,000m of climbing. Rolling across granite with sweeping views of the harbour, one was torn between focusing on the raceline or stopping and admiring the stunning views. A finish line just off the main street in front of a pub seemed like a great way to finish. Nothing promotes finish line atmosphere like outdoor seating and ice cold beer.

The general consensus was that it was a tough 50 km with a bit of everything. With only a couple of hundred metres of formal trails in Albany, the technical sections were raw affairs that tested the riders. For the first time this year there was a marathon race series in Western Australia with six different longer distance events combined in a point series, with some events like Southern Peaks earning extra points to offset the challenge in getting to the event. With stalwarts like the Karri Cup, Kalamunda 50/50 and the Dwellingup100, this format looks well placed to become a drawcard and attract riders to try different events around the state.
Travis' journey will continue in Part II.....