When it comes to big mountains, Australia is a little underdone when it comes to a worldwide scale. That affects mountain biking directly by not allowing riders to experience what European MTBers, and U.S. counterparts can take for granted. A chair-lifted ride to the top of the 5,000 metre mountain and 10 minute descents to the bottom.
Trail building company Dirt Art aims to change all that, and has opened a brand new bike park in Maydena, north-west of Hobart. By all measures, it really can be called the first proper bike park in Australia. It's a fully commercial operation, based on a pay-to-play model.
It's serviced by a fleet of minibuses and trailers, and on its opening weekend, on the Australia Day holiday, it featured more than 35 trails of varying degrees of difficulty, complexity, and grin factor. We were invited down to have a try, and we've come away very impressed.
Facilities
Maydena is a tiny country town in Tasmania with a population of no more than 250. In fact, a full complement of riders on Maydena Bike Park's opening day more than doubled the town's small population.
As such, it's currently low on many basic amenities that we would take for granted in larger riding centres. There is only one cafe outside of the bike park's own facilities, and there's just a single general store. All outlets were happy to use 'tap and go' for card payments, but there's no ATM anywhere in sight.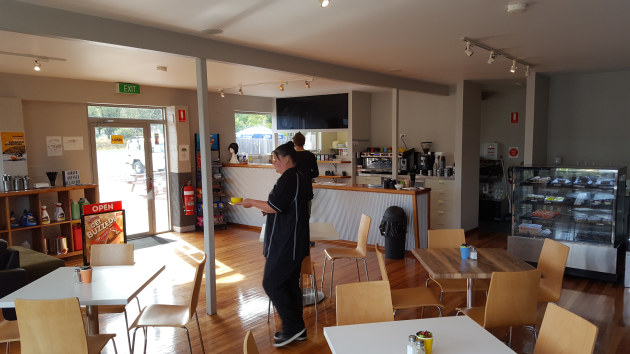 Accommodation is available - basically through searching on Airbnb - and there are also a few older-style bed-and-breakfast facilities both within the town and close by. It's about a 90-minute drive from Hobart's CBD along a well-maintained, yet curvy country road, and there are fuel stops along the route.
Mobile phone reception is sporadic, and reception varies not only between the carriers, but depending on where you are on the side of the hill. At the top, for example, Telstra didn't work very well, yet Vodafone and Optus did fine. But in the park's base camp, Telstra was the best of the three.
The park's main facility is based in an old primary school, which serves very, very well as a rest point and shuttle pickup point for riders. There's plenty of toilets, places to change, taps to fill water bottles and hydration bags, and lots of shaded seating.
A simple registration system upon arrival sees all riders sign a waiver and receive a wristband, before proceeding to a fleet of shuttle buses. As could be reasonably expected, there were some hiccups on opening day with long lines awaiting shuttle uplift - which takes about 30 minutes to get up to the top on a gravel road - but owner of Dirt Art, Simon French, soon rallied extra resources, and the lines quickly became more manageable. The wait on day two was noticeably shorter.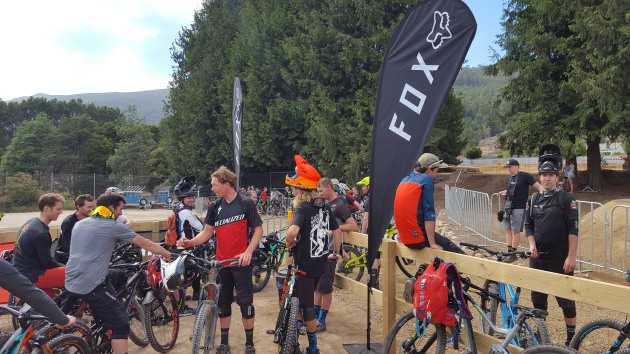 The base camp also features a fully-fledged bike shop, which has the aim of becoming an complete full-range store within the next couple of months. Maydena has already lined up alliances with key suppliers like SRAM and Fox, as well as clothing companies DHaRCO and glove company Fist, and it sells a range of park souvenir merchandise, as well. 
There is also a fully-fledged bike mechanic workshop onsite, while Maydena rents out bikes from German company Canyon. On the fleet for the opening weekend was the company's 160mm travel Strive, as well as its full-house downhill bike, the Sender. More machines, like the brand new Torque, are on their way to the park.
Canyon Australia says that it is working on a system where a discount code will be offered if someone rents a bike in Maydena and likes it so much that they actually want to buy one.
There is plenty of food and drink at the cnverted school canteen cafe, as well as alcoholic beverages from local supplier, Moo, including a very tasty alcoholic ginger beer. Of course, a whole range of other non-boozy items are included, and the menu is quite long and varied, catering for meat lovers and vegetarians alike.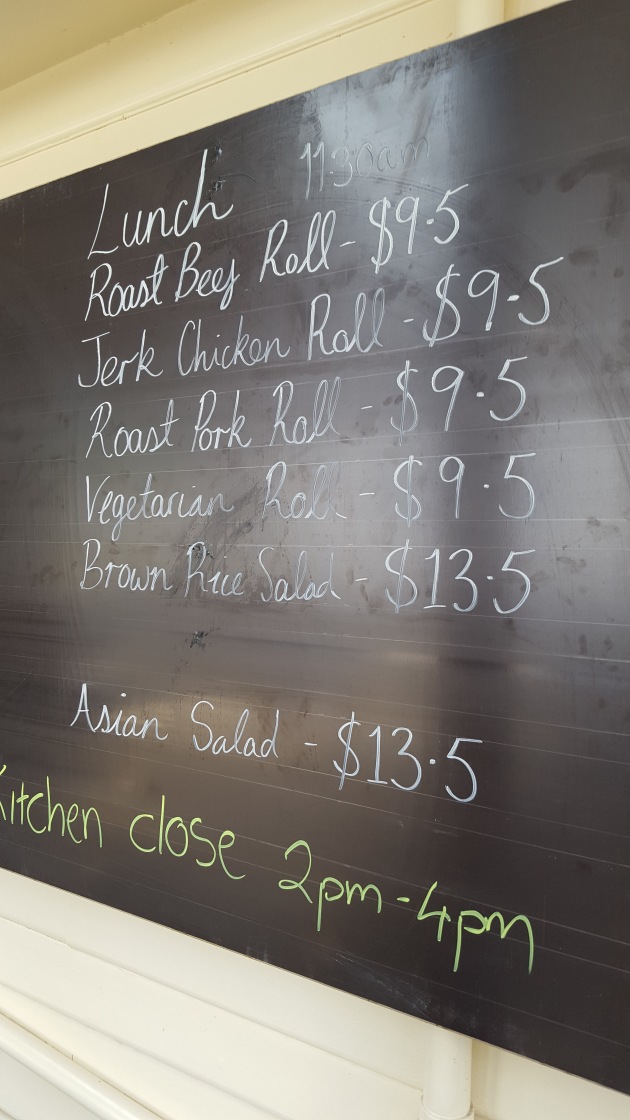 A word of warning; check the opening times of the kitchen. It did change its opening hours over the course of the couple of days, catching a few people unawares.
We would recommend that you take a hydration bag when you go to the trails; there's no water available once you're out in the trail network. However, the amazing Eagles Eyrie top station does have toilets, water, coffee and snacks. And it's definitely worth taking a pause during one shuttle run just to take in the amazing facility that is the Eagles Eyrie.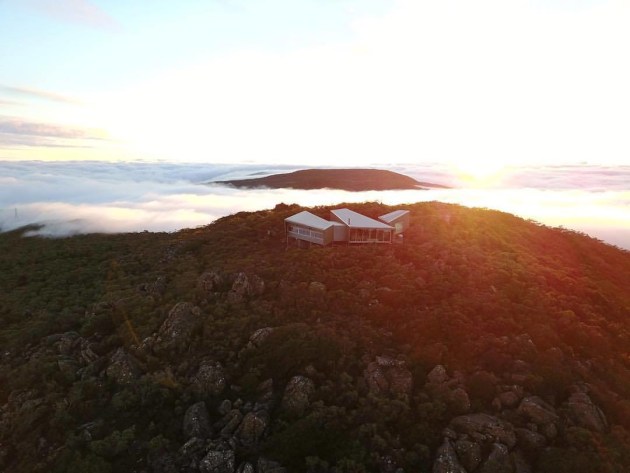 Once an abandoned tourist project, the local and state governments have assisted Maydena in offering a truly unique piece of architecture to the use of the MTB community.
What to bring
Maydena is best suited to bikes with no less than 140mm of travel front and rear. You could bring a lesser travel bike, or even a hardtail, but you certainly wouldn't get the most out of the park. You don't need a full downhill bike, although there are plenty of trails that will suit a 200 millimetre travel monster.
But something with 160mm of rear travel, 170mm front, oversized brakes and wide grippy tyres would be an absolute perfect bike for Maydena.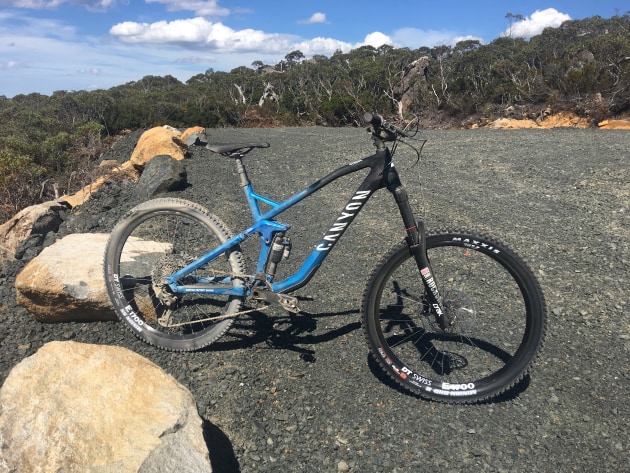 A full-face helmet is highly recommended, and in fact, all of the park staff are required to wear full faces. Elbow and knee pads are also highly recommended, while a hydration pack with back protection wouldn't be a bad idea, either.
These are big trails, and the more you ride them, the more tired you get. You don't do much pedalling, but you do a lot of upper body work, and that gets tiring - and that leads to mistakes. The trails are beautifully crafted and (currently) free of braking bumps, but there is a LOT of riding in each one, so be aware of your fautigue levels.
Getting there
Both major airlines offer direct flights from major capitals (except Canberra) into Hobart on larger aircraft, which makes travel with mountain bikes much easier. And there are also a host of rental car companies at Hobart Airport with a range of vehicles to hire. We grabbed a car from Thrifty, but there's also a couple of local outfits who offer wagons and SUVs at pretty reasonable prices. Correction. There are direct flights from most Australian capitals directly into Hobart Airport. 
Maydena says it can also organise shuttle services between the park and Hobart.
The trails
Based on a mountain with an 800-metre elevation drop, the Maydena network promises to be one of the world's best gravity parks. And this is not an exaggeration. A lot of hard work has gone into the initial planning stages, including getting permission from many and varied stakeholders.
However, these stakeholders, including Parks and Wildlife, local and state governments and tourism bodies, have all come to the party and assisted in the creation of what will become a genuine tourist asset for the region.
Put simply, the trails are amazing. The various teams of trail builders have been allowed to put their mark on the terrain, often competing with each other for the informal title of the best trail. In fact, when we were riding the trails, the trails were becoming more known by the builder's name than the actual designated trail name.
The trails are all ranked from green right through to black, with a good variety of trail available on the opening weekend. It's definitely worth noting, though, that the scale of the trails is harder than what's noted on the signboards.
The green entry level Scandinavia trail, for example, would actually be closer in difficulty to a blue trail in other areas of Australia (Australia rates its trails from the easy green through to blue, black and double black). It's fast, fun, and flowing, but certainly has some features that would catch out riders who aren't used to such big gravity falls.
And that's what Maydena is all about. You're seldom on the pedals, but you're always on the brakes.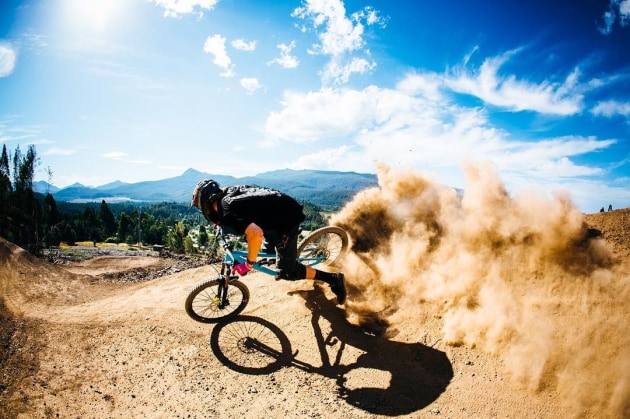 The soil is perfect, too, even on the dry and dusty day that we rode the trails, with plenty of grip in most areas. It will change consistency with elevation change and as the trails are packed down by riders.
The lines and the cambers of the corners are just spot-on, too, and the overall roll and flow of the trails is something to behold. The trails have been structured in such a way, as well, that you can start down one small trail, quickly cross over to another, then switch to a third, all within a couple of minutes.
It was estimated that it would take 15 full runs to be able to access all the different trails that were available on the day, and the fastest theoretical time top to bottom without stopping would be in excess of ten minutes.
And don't forget, this is less than a third of what is expected to open up in Maydena over the next couple of years.
Our favourite trails included the blue-graded Marriotts, which is one of the opening gambits in the park. The aforementioned Scandinavia, too, where flicking the rear of the bike the opposite direction before scooting around a berm became an art form and a pleasure, quickly became a favourite, while the trickier Brown Snake, check, was an eye-opening rollercoaster that really pushed your skills quite quickly.
Verdict
The hype is real. The Dirt Art crew have basically built themselves a showcase to their prolific trail-building skills in a single place, and they have instantly created a venue that leads the way when it comes to gravity-assisted riding in Australia.
In fact, it really shows just how stymied the growth of gravity has become in Australia. Both Buller and Thredbo have put relatively small amounts of resource into a trail network in recent years, but in one fell swoop, Maydena has matched Thredbo's gravity offerings, and is rapidly closing on Buller's total. Its eventual total of 120km will put it near the top of most parks in the world, too.
Make no mistake; Maydena is definitely aimed at the gravity set. While more adventure- and XCR-type trails are coming, it currently is best suited for riders who have a little bit more ability than average, and who are suitably equipped to handle big mountain conditions.
If you spend a few days at Maydena, your skills will improve immeasurably - and your body will know all about it, as well. As with all park riding, there are consequences if you overstep your abilities, and we really recommend that you roll through a few shuttle runs at an easy pace first before opening it up to full speed.
The state of Tasmania has a goal to become more adventure-tourist friendly, and we found the locals to be warm and welcoming, The food - and more importantly, the coffee - is great, too.
Combined with existing facilities like Blue Derby, and additional trails centres that are planned for places like St Helens, Tasmania is starting to look like a venue that, in Maydena Bike Park's Simon French's own words, is a viable alternative to travelling overseas to ride.