Trail Test: Ground Effect Men's Range
Ground Effect is a New Zealand-based company that has been designing and making a range of top-end bike apparel for a number of years that is just as popular over here, across the ditch in Oz, as it is in its homeland - and for good reason.

They really pride themselves on producing clothes that are built for adventure so with that in mind I put two pieces of kit to the test.

Neopolitan Shirt
The Neopolitan reflects the company's experience both in riding and designing apparel that simply works when you're on the trail. This three-quarter sleeve tee uses what Ground Effect dubs Heatwave Merino, a combination of synthetic material and the natural world's best – fine merino wool – to offer riders a comfortable top that's the best of both worlds. The blend split is 51 percent merino wool (a very fine 18.5-microns, that means super-fine but still robust) and 49 percent polyester. There are two colour schemes: green/blue (very bright and tested here), and blue grey.

You get warmth, breathability and elimination of odour from the merino inner layer that sits against your skin to help wick sweat away from your body (and to to the outer layer of the top), along with lighter weight, faster drying and more durability from the synthetic outer layer, which helps reduce the 'load' of moisture absorption off the merino. Yep, it's bloody clever.

You'd think this would mean the Neopolitan would be heavy on your body when wearing it, but it's not; weighing only 200 grams and with a semi-snug fit, you don't really notice it at all. Other unique design features that, again, reflect the Ground Effect team's bike background is the WhaleTail at the back of the garment. The name accurately describes the extended length at the back of the top so even when you're fully extended over the bike your lower back and torso are still protected from the elements.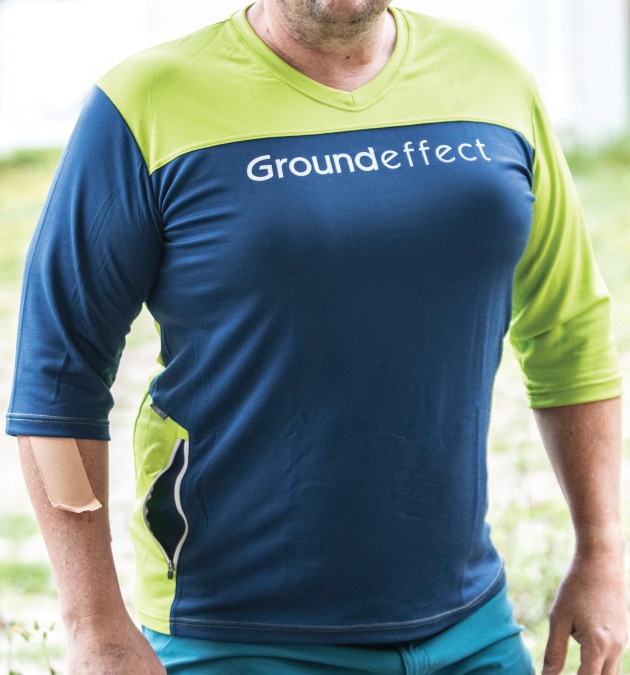 Other small but equally effective inclusions in the Neopolitan include a zipped security pocket on the right-hand hip area, with – even more clever – a sewn-in tube repair patch. Yep, pretty damn cool. One last worthy note is the fact the team has designed the three-quarter length sleeves to be able to fit elbow pads inside them. I rarely ride with elbow pads but did just to test this and they fit easily and the sleeve rarely got dragged or snagged by the pad underneath. I even wore the Neopolitan under a light rain shell a few times during testing and, yes, it did get a bit more sweaty due to that outer layer not allowing much air in or out, but it was never totally uncomfortable.

The Ground Effect Neopolitan offers plenty of performance for the asking price. Its light weight and ability to keep you both dry and regulate your body temp (thanks to that merino inner layer) make it close to an all-seasons go-to top layer, with only those belting hot summer days being the exception.

Snipes Shorts
Ah, baggies! The eternal to-and-fro for MTB riders is often whether to go for what some consider heavy/bulky baggy shorts, but which others think work best for both comfort and a bit of modesty, or the skin/leg-hugging lycra, for minimal chance of snagging, and that 'race' feel. Ground Effect's Snipes shorts make a great case for the baggy crowd; the minimalist (read: lightweight) design and a slightly shorter leg than others in this market segment, designed for optimum ventilation.

As a rider who swaps between wearing baggy and lycra, I was intrigued with Ground Effect's approach to the Snipes design. The NZ-based company has taken all the things people complain about with baggy shorts – lack of ventilation, too long a leg, bulky feel and weight – and gone close to eliminating them, while keeping the baggy short DNA. Besides the slightly shorter leg, the Snipes have a large mesh panel front and rear for increased ventilation, and it does, indeed, make for a cooler feel down below – much appreciated on hot days. The waist-lining is also light in weight, albeit with minimal padding, but still fully adjustable via the Velcro tabs. Aiding freedom of movement is the gusseted crutch area, meaning there's no annoying 'drag' or 'catching' as your legs lift up and down when pedalling.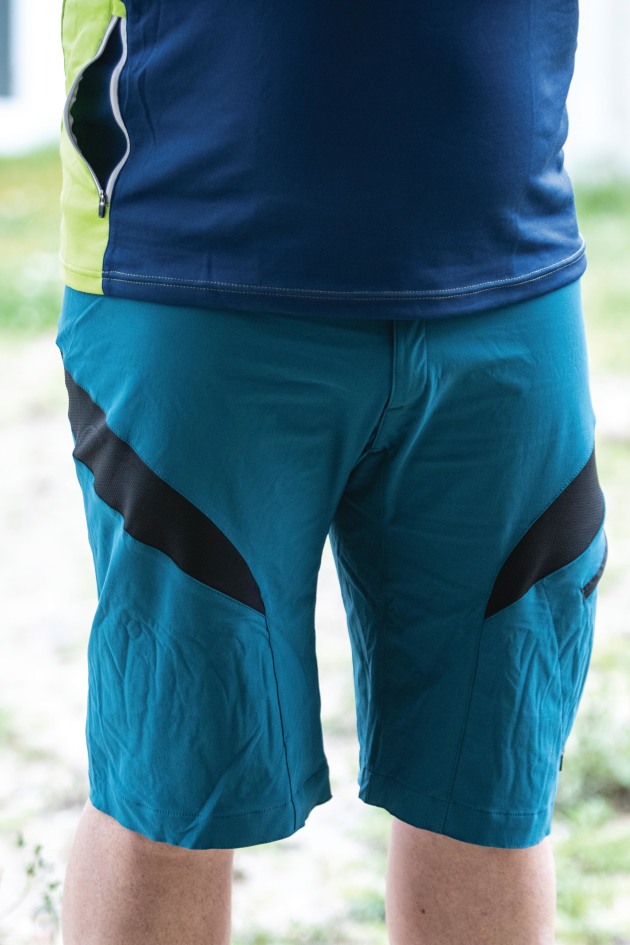 The light weight of these shorts – a paltry 220g – shouldn't mislead you to thinking they're not as robust as heavier variants. The Hi-Impact Stretch material (89 per cent nylon/11 percent lycra) offers both toughness (via a double-weave construction) and a bit of stretch around the hips and legs. By offering some stretch in the fabric it also means the shorts can be less 'baggy' which reduces the chances of snagging on a rogue branch, handlebars or similar. It's a small thing, but clever just the same. The Hi-Impact Stretch fabric also has a DWR (durable water repellency) treatment to aid water-resistance. I used my own inner liner during the review and found no problems matching it with the Ground Effect Snipes. The company does offer its own range of lycra mesh liners – the Innuendos, Underdogs and Stowaways – as well.

The minimalist design of the Snipes does mean some sacrifices, albeit minor in the form of only one small zipped pocket (but with an inbuilt tyre patch if needed) and the lack of a soft, thick waist liner (yeah, I am a bit soft, I guess), but these are outweighed by the Kiwi company's attention to detail and smart design of these shorts. For Aussie riders especially, the lighter weight and amount of ventilation heightens their appeal. As does the robust build quality and that 'smaller' design that reduces the chance of the aforementioned snagging and catching on bike and/or branches, etc. As either your main pair of shorts, or your go-to pair in warmer weather, they work very well.
Neopolitan Shirt (Price: $120)
In the stand – 9/10
On the trail – 9/10
Overall – 9/10
Snipes Shorts (Price: $130)
In the stand – 8/10
On the trail – 9/10
Overall – 8.5/10