'312 hours over five days': How volunteers rebuilt the Australian Botanic Garden trails
Mountain bike trails at the Australian Botanic Garden have officially reopened thanks to a monumental effort from volunteers and the Wollondilly Macarthur MTB Club.
In what served as an early Christmas present to riders, the Family and Kids Loops were made available to members of the public on 22 December after an absence of over two years.
The popular trails, located south-west of Sydney at Mount Annan, had been completely closed since mid-2017 after the discovery of the invasive African Olive weed.
Club secretary Andrew Steele told MBA the first stage of reopening was not possible without the unprecedented number of volunteers.
"We were humbled by the number of volunteers who gave so much of their time in the past few months to hook in and get the first section completed in such a short space of time – this restoration has truly been driven by the volunteers," Steele said in a statement.
"The fantastic volunteers gave a total of 312 hours over five workdays often in fairly hot and dusty conditions to make this happen for the community."
The reopened trails are ideally suited for beginners with the more advanced loops set for a mid-year unveiling.
"The first section, the Family Loop (3.9km – let's call it 4km) and the Kids Loop (1km), have been restored largely on the original alignment, however, we have included a number of significant improvements and additions to take the sting out of the climbs and to make it a bit more fun.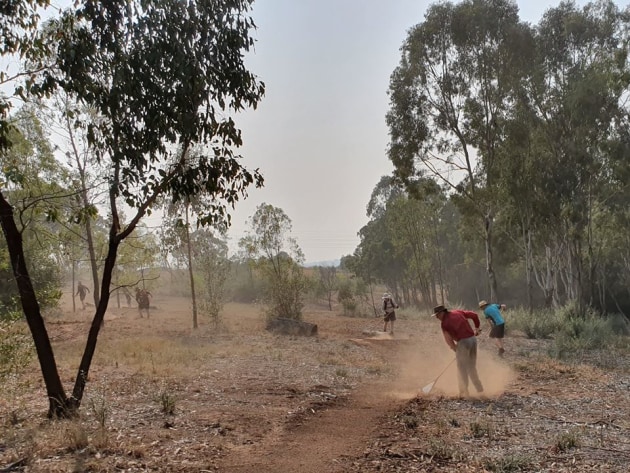 "The trail is rated as 'green / easy' and is ideal for families and new riders – the more experienced riders will find lots of little jumps, berms and features to pop off for a bit of fun. 
"The other sections, the Intermediate Trail and the Advanced Trail, will be restored during 2020 to bring back the full 11km circuit. It is going to take another big effort by the Club but with the help of those wonderful volunteers together we will bring it back as soon as we can."
Images courtesy Wollondilly Macarthur MTB Club.