Best of 2019: Mountain biking returns to the Australian Botanic Garden
After over two years of waiting, mountain biking is finally set to return to the Australian Botanic Garden, Mount Annan trails.
The popular trails, located south-west of Sydney, were suddenly closed in mid-2017 after the discovery of African Olive weed. The weed is an invasive species and as such the decision was made to close the MTB playground to the public.
Making the announcement via their Facebook page, it was revealed the Wollondilly Macarthur MTB Club was the driving force behind the campaign and had begun work on restoring sections of the trail.
In a statement, the Club thanked its volunteers and said that further plans would be forthcoming.
'A small motivated group of only Club members started on the trail work and made tremendous progress to restore and improve over 900m of trail, including building 120m of new trail,' the statement reads.
'A sincere 'thank you' goes out to that cheerful bunch who have worked hard to get 900m of trail completed so far – you have really earned your status as a 'trail fairy'. 900m does not sound like much but considering the work we did was some of the harder work required we are very satisfied with our initial efforts.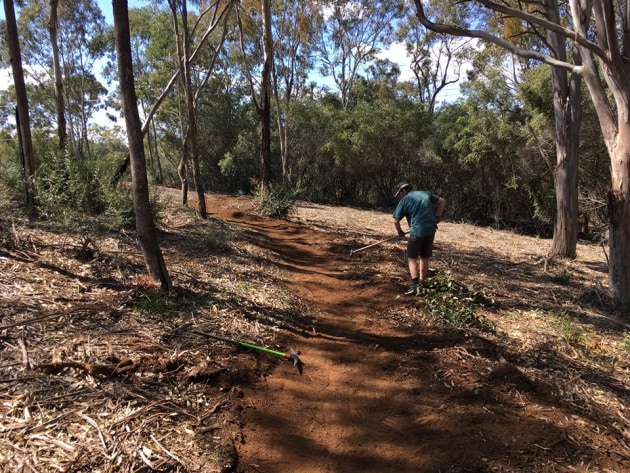 Image courtesy Wollondilly Macarthur MTB Club
'There is still a lot of work to go – some short sections will be as hard as these first days, but the majority should be easier. Not all of the trail will be done purely by hand – we have a plan in place which will enable sections of trail to be completed more quickly – we will share that plan with you soon.'
The first sections of trail are set to re-open in early 2020.