Black Panther ride raises cancer charity funds
Riders descended on the Lower Blue Mountains last Sunday for a day out to raise money for a good cause. Many of you will have heard of Salt2Snow, the epic trip from Lake Eyre to the highest point of Australia, Mt Kosciusko, by MTB legends Matt Holmes, Paul Begg and Nathan Rennie (below).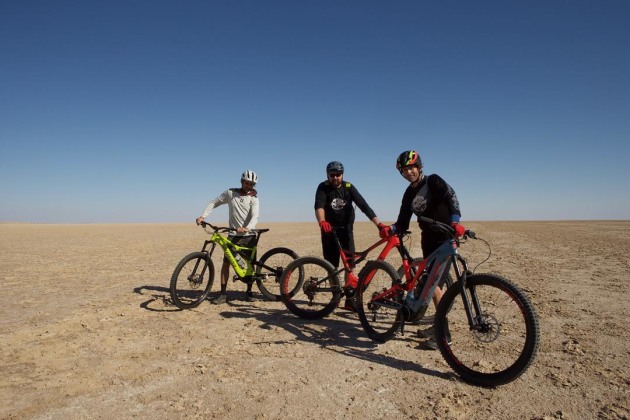 Matt and Paul themselves have been personally affected by cancer, and spent the last month trekking across dusty plains, sandstorms, snow and pretty variable food and accomodation to raise money for cancer charities including Chris O'Brien Lifehouse and The Garvan Institute.
"I can't thank our awesome MTB community for getting behind our cause and also being there for our great mate Jared to help him get through his glitch," said Paul. "When you go through treatment and get so much support and care from our healthcare institutions - and in particular the doctors and nurses - you just want to help and throw down and be as helpful as possible. Your donation will help no matter how big or small. Really we are touched."
Meanwhile, MTB superstar Jared Graves has been having his own battle with cancer, recently undergoing surgery to remove the tumour.
Local riders Scott Prendergast and Adam Fernyhough hatched to run a new version of an annual social ride, this time with a difference. To join the event, riders had to make a donation to one of the charities associated with Salt2Snow, or the #StrengthForJared gofundme campaign. After the social ride, riders met back at the pub for a raffle and auction, hosted by renowned commentator Paul King.
From the moment the plan was hatched, brands and people were onboard donating multiple awesome prizes for the raffle, with huge contributions from a huge number of MTB brands, shops and individuals.
Gear including a brand new set of Rockshox forks, a Magura brakeset, personally crafted artwork, a signed jersey from Steve Peat, signed boots from motorcycle racer Casey Stoner and much more.
Photographer Dave Trumpore provided some photos to be printed out, personally signed by Jared himself, via his long-time mechanic Shaun Hughes. Shaun came along for the ride as well, helping to auction off the prizes he'd had a part in delivering.
Raising over $9,000 between the auction proceeds and raffle tickets, the day was a great success for all involved and hopefully goes some way to helping with the big-C's impact on everyone's lives or those they love.