How-to: The ultimate guide to multi-stage racing - PART I
Pics: Bruce Newton, Todd Weselake, Margus Riga,
Dave Silver
So, you've decided three-hours, six-hours or even 24-hours just isn't enough. It's time to go multi-day mountain bike racing.
Great decision! If you want to get immersed in the mountain biking experience, then this is a superb way to do it.
For however many days your chosen event goes there's no doubt the simple act of riding, recovering and riding again becomes your world. How pleasurable that experience is comes down to a bit of basic research, a decent amount of preparation and a fair degree of determination to see the event through to the end.
Do everything the right way and you might even enjoy it. Maybe even want to come back again.
So, here's my thoughts on how to go about multi-day racing. I'm sure there's plenty more to it than I've captured, so don't hesitate to write in with your own tips!
Pick the right race
There are a few multi-day races in Australia and heaps across the globe, so there's no shortage of choice.
There's a few running locally; the legendary Croc Trophy in FNQ is one, the Simpson Desert race is another and there are two great events based out of Alice Springs.
There are also three four-day races worth highlighting. There's the Port-to-Port based around Newcastle, the Reef-to-Reef that operates in the area out the back of Cairns and finishes in Port Douglas and the incredibly popular Cape-to-Cape in Western Australia's Margaret River region.
All three of are run by a company called Ironman, that is also in charge of The Pioneer in New Zealand and the incredible Cape Epic in South Africa – the big daddy of all multi-day races.
Ironman's a slick organisation that does this stuff full-time and all the time so if you really get into this whole endurance thing then they will most likely end up being a staple feature of your calendar. There are proper briefings, plenty of helpful people, well-communicated schedules, bike support, transport, guidance on accommodation options and – most importantly – good riding.
I rode in the 2018 Port to Port and covered it for Mountain Biking Australia and found it to be a pretty good mix of climbing, descending and sweet singletrack. With stages about 45km a day and averaging around 1100m of climbing, it is certainly doable for the average mountain bike athlete.
It really is a good idea to check out the profile maps of an event before you go in it. No good entering an event with a huge amount of climbing when all you're interested in is the descending – or vice-versa (and if it is vice-versa then you are a very sick puppy).
That aspect of it really applies beyond Australian shores. For instance, the Trans Alp in Europe is paradise for stem chewers, the TransNZ in one for the full-face crew. Perhaps the most famous multi-day MTB race of them all, the BC Bike Race in British Columbia, tries to deliver a bit of both.
But across seven days and 300km of riding it does still challenge you with 10,000 metres of climbing. Cleverly though, almost every stage finishes with an amazing burst of singletrack – just like every race should!
Train, train, train
At the 2018 BC Bike Race I met a guy who had only been riding mountain bikes for three months and this was his first race. He'd entered on a whim and flown all the way from Australia to give it a crack. He finished but admitted it had been a pretty hard experience.
So, you can do tough multi-day MTB races with a minimum of experience and not that much fitness – or at least bike fitness. But even this guy grudgingly admitted it wasn't the smartest thing in the world to do.
Look, racing hurts at whatever speed you do it. But the further up the field you're hurting the more satisfying it is in my book – not that my aspiration is anything more than to finish in the front half of the old farts class and out of the back third overall.
To be able to work hard yet still extract some enjoyment from an event like this it's best to prepare your body properly. Identify your target event a long way out – 12 months out if possible – and start working.
The good thing is a lot of that work can be on your mountain bike. Sweet! Lots of long rides, lots of steep rides and as you get closer to the event, more focus on the tech.
When you can't get out on the bike, get on the stationary bike for 30 minutes and watch a POV of the tracks you're going to race on. YouTube is full of this stuff.
If you feel like a change, go a for a swim, a walk, a yoga session. Every little bit helps.
I really recommend a coach. Ok, it might seem like overkill for someone who's racing deep in the pack (moi!), but I can tell you it's great having someone who understands your goals, understands how to get your body prepared to achieve it and – when you need it – can deliver a bit of a morale boost with a metaphorical arm around the shoulder.
So, here's a good time to give a shout out to Justin Morris and Mind Matters Athlete Coaching. The guy's raced professionally on the road and for Australia on the dirt, so he's got the cred and the character.
On your way to the big goal make sure you do plenty of racing along the way. I always work harder and extract more from races than a good Strava run. You just can't kid yourself in a race about your performance; it is a confronting reality check on a bad day and one of the great natural highs on a good one.
It's all about the gear
OK, so while you're preparing yourself you should also be homing in on the gear you are going to be riding on and in.
Bike first. Multi-day XC-oriented races don't usually have extraordinarily tough, technical terrain. Sure, the BC Bike Race has a reputation for being a rooty extreme so when I went in 2018 I took a 150mm Giant Trance. To be frank, it was overkill. It smothered the descents for sure, but the time lost hauling a heavier bike up the steeps and watching the 100mm-120mm whippets disappear into the distance was a bit of a downer.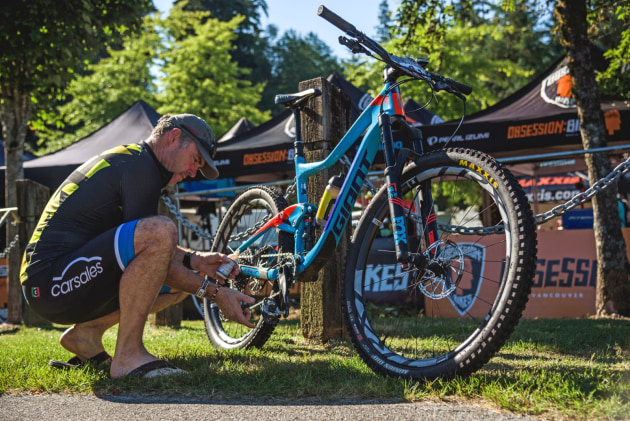 Yep, there was time to be made up on the downs, but not enough at my riding pace.
So, go for a 120-130mm dual suspension bike with 29-inch wheels. The Scott Spark pictured here is a great example of the breed. Alloy or carbon frame doesn't matter as much as having the best quality suspension (with lockout for smooth trails, fire roads and climbing), brakes, light-ish but still sturdy wheels and tyres you can afford.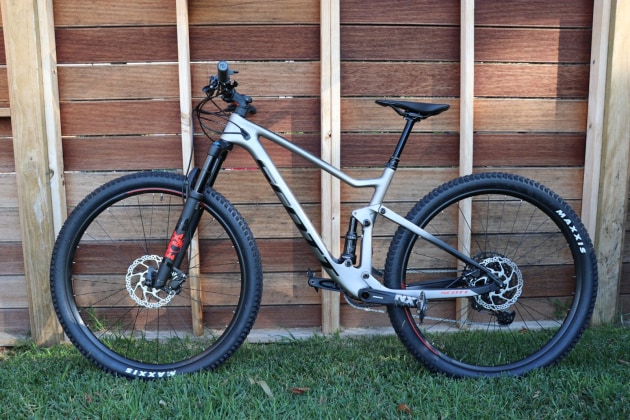 Speaking of rubber, research for the conditions you face. But generally speaking you're looking for grip on the front and speed on the rear.
Make sure you get all your touch points right. Bar widths, saddle (dropper is recommended), grips, levers and pedals should all be experimented with.
And the same goes for what you are riding in. Are you a Lycra lover or baggies kind of person? Do you like tight or loose fitting? Do you want ultra-stiff shoes for max power or do you concede you are going to walk a bit and want a comfier sole?
Your helmet choice is key; an all-mountain type provides max protection but you'll overheat climbing. Gloves, do you like padded for comfort or thin for feel? Eyewear, there are several good brands, but it's more about the lens. Clear or photochromatic works better than dark tint if you're ducking in and out from under trees (if you're racing in Alice Springs not such an issue!).
And finally, to Camelback or not. If you're a racing whippet then bidons are probably enough. If you're a heavy-sweating Clydesdale like me, resigned to between three and five hours on the trail, then the Camelbak – or equivalent – makes sense.
Of course, it's important to figure out what you want to drink on the trail and what you eat. Once again, experiment early and then settle a fair way out from your target event.
By the way, considering how much gear you have to think about, it's a great idea to build a relationship with a local bike shop you trust. The good ones buy into your dream and might even knock a few percentage points off retail for purchases and repairs. In my case, a big shout-out to Melbourne's Bicycle Superstore which has gone above and beyond in its support. Thanks, you guys rock!