Preview: Port to Port MTB champ returns for 2018

Press release
With three national marathon cross country MTB titles and clocking up 19 straight wins from 2015 to 2017, Brendan Johnston (above) is hailed as the 'King' of XCM events. But the boy from Moruya, on the NSW south coast, is always keen to display his athletic versatility and he is back, fired up and ready to defend his Port to Port MTB title.
From a family with strong links to cycling and all sorts of endurance sports, Johnston was destined to be on two wheels. He started tinkering with road cycling at 11 but the camaraderie of MTB quickly grabbed his attention and he was soon doing his apprenticeship with his friends on the myriad of local trails.
"I had the traditional background of always riding a bike as a kid and I started just mucking around riding north of where we were living in Moruya and I meet a few guys who worked on the trails and they would take me out and show me where to ride," he said. "It got a little bit more serious once I started doing some racing and got a few results. I won my first mountain bike race and from then on I was pretty hooked on it."
One of the most adaptable riders in Australia, Johnston picked up a second at the National Marathon Championships but will now shift his focus to the different physical and mental demands of four day MTB stage racing.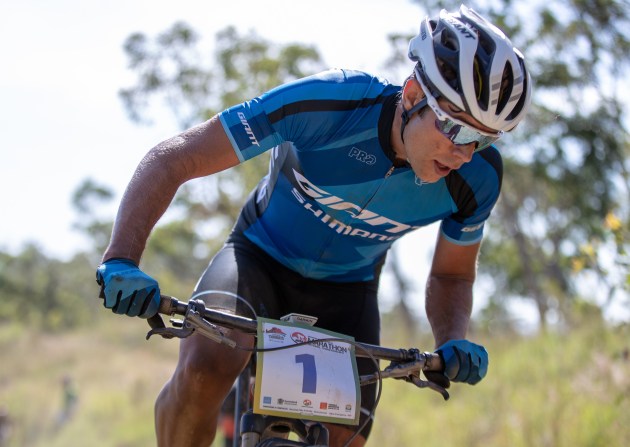 "Port to Port and Cape to Cape are pretty similar which relatively short stages when compared to a marathon race," he said. "It is like having a cross country race every day for four days because the intensity can be quite high with the level of talent that turns up to these races. It is not something you would normally do but I will try to load up with training blocks over a Friday, Saturday, Sunday of intensity, or try to go four days straight and get used to the intensity."
Johnston said the sport of MTB is very healthy in Australia and he successfully combines his work as an electrician with his tough training schedule and the opportunity to ride in world class events like Port to Port at every opportunity.
"I have a really good contract with Giant but I also run a small electrical business with a partner. It is very busy and I am pretty much flat out. I train in the early mornings and go to work doing a lot of solar and renewable stuff. Then I often train in the afternoon, then back in the office in the evening chasing things up for business and cycling. They are busy times," he said.
Johnston says he enjoys the endurance trio of Port to Port, Cape to Cape and Reef to Reef races for their low-key vibe.
"I just enjoy the way that the racing is quite social," he says. "It is fierce at the front, but by 10.30am each day the racing is done and you are just hanging out and having a chat. The trails have been changed up a bit at Port to Port this year so it will be exciting because people won't know what is coming up. Cam Ivory has pretty good local knowledge up there so he will know roughly where we are headed but for everyone else it will be unknown."
To learn more about the Port to Port MTB race, check out https://porttoportmtb.com/