Rocky Trail changing the game with the Jetblack Wild Wombat
It's been over a decade since Rocky Trail Entertainment first set up shop and it's safe to say they've become a familiar part of the mountain biking calendar.

With the flagship Fox Superflow and Shimano MTB GP series leading the way, Rocky Trail have created a plethora of events throughout NSW and the ACT from Thredbo to Taree. News in recent weeks has revealed they will also be expanding into Queensland with a range of events set to be announced for 2020.

What has become increasingly clear however is that it is no longer good enough simply to host an event. The lure of a race isn't always strong enough, especially as the company continues to expand across the country. What may have been a handful of day trips now command some weekends away and with that comes an added responsibility to sell the area as well as the event itself.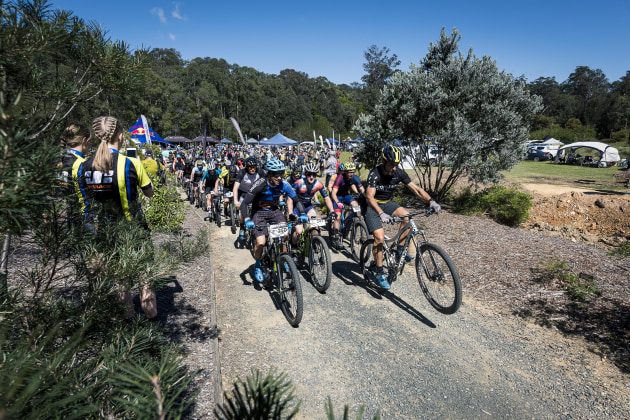 Weekends away can usually mean children present, opening up a whole new opportunity for Rocky Trail's events. While there are serious races in the stable, the ability for parents to ride alongside their kids is a must if the events are to thrive.
These changing demographics ultimately culminated in a new event in 2018, the Jetblack Wild Wombat, held in the Eurobodalla region.

The Eurobodalla is found on the South Coast of NSW and its central hub is the seaside town of Batemans Bay. Those from Canberra will know just how popular Batemans is and how it completely transforms during summer holidays and long weekends.

It's at the nearby Mogo Dam Loop where Rocky Trail launched the inaugural event in 2018. 2019 will see the event village relocated beachside to Corrigans Cove where the Sand and Dirt Criterium Race will kick proceedings off on Saturday, 30 November.


The race on Sunday moves to Mogo and is basically an individual time trial. While it is competitive the race is open to people of all ages and abilities. Riders can complete as many laps as they want and there will be leaderboards for fastest lap, fastest three laps and fastest five laps across a wide range of age groups.

Having such wide parameters for the race is not an accident.

Renee's Story
Batemans Bay local Renee Carver is really the embodiment of Rocky Trail's philosophy. A mother of two, she grew up in the area before relocating to Canberra. It was in this hub of Australian mountain biking that she got into riding and when she returned home to Batemans Bay in 2014 she wanted her kids to explore the natural beauty around them, on two wheels of course.

When she's not riding local trails Renee manages her family business, the Clyde View Holiday Park alongside brother Scott. She's long had the vision for the region as a mountain biking paradise, secluded enough amongst the best nature has to offer while close enough to beaches and coastal attractions to encourage tourists from far and wide.
So when Rocky Trail came knocking Renee immediately saw the potential not only to sell the area to mountain biking families but also introduce her own children to the world of biking events.


"It's a fun thing to do," Renee told MBA.

"[They] generally like riding bikes anyway and in mountain biking they get that extra bit of adrenaline, which is exciting for them."

It's the introduction to the organised events however that excites Renee the most.

"It will be a fun activity to do together!"
she said.

"Of course, there won't be any pressure, they can do just one lap if they want to, but it's about getting out there together and having the same number plate and being part of the same event. It will be a nice experience and common memories to share!"

The above sentiment is exactly what Rocky Trail are trying to tap into. With a lot of mountain bike events geared towards the serious side it's important to create an environment that fosters a sense of fun especially for young riders.

It's also aimed to include adults who have been out of the saddle or simply don't feel they are in good enough shape to compete in one of the many races held around the country.

The opportunity to explore new regions is not lost on Renee who has high hopes for the future of mountain biking in the broader Eurobodalla region.


"There is so much potential for mountain biking and cycling in the region," she said.

"Most people have a bike around here and the new trail plans will potential really encompass the entire community - I lived in Canberra and know how lively the cycling community is there, it would be amazing to have this year too.

"It will be great for local businesses and I love that Rocky Trail bring their events into regional NSW, there are such beautiful tracks around here, the riding potential hasn't been touched and tapped into yet, but from all accounts the local council has been working on it so I can't wait!

"Canberrans generally come here in the peak season and this would be the chance to experience the town among fellow mountain bikers. It will be warm and beautiful, the beaches uncrowded.

"For people from further away like Sydney it will be great to get away before the summer hits, there is so much to do and Rocky Trail do such an amazing job of involving the local community and businesses to showcase what we have to offer."

The Jetblack Wild Wombat will be held on 30 November and 1 December 2019. If you're interested in participating just head to rockytrailentertainment.com/jetblack-wild-wombat/.
This article is part of a partnership with Rocky Trail Entertainment.