Is this Yeti's Goldilocks moment?
Hot on the heels of Yeti's first foray into the big-travel 29er sphere, and some months after the launch of its surprisingly successful 100mm long ranger, the Colorado company has taken the covers off its newest big-wheel creation - and it may well be the most useful of the lot.
Known as the SB130, it'll slot in between the SB100 and the SB150 - the numbers, of course, dictate the amount of travel available from the rear end.
The SB150 is an unashamed play at the top-end enduro racing market, while the shorter travel, lighter, more focused SB100 has taken the company by surprise at just how well it's sold out of the gate.
Like the SB150 and SB100, Yeti made it a priority to give the SB130 everyday usability, but it's also drawn on a lot of modern bike design techniques to create a flexible platform that can be be light, strong or anywhere in between.
It's designed to work with a 150mm travel, short-offset fork (though it'll deal with up to 20mm more), and sports the now de rigeour super slack head angle/upright seat angle/long top tube combo that works so well with bigger hoops.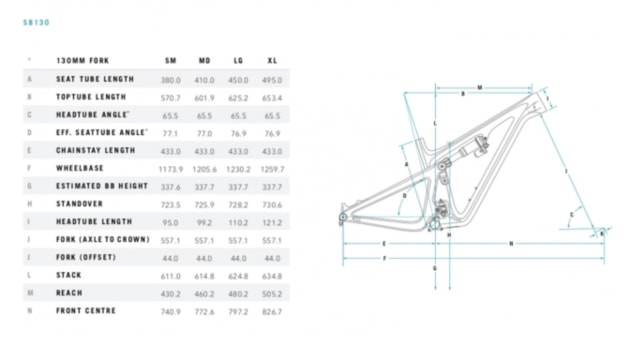 Yeti has pushed the boat out even further, with a 65.5-degree head angle matched by a 77-degree seat angle, and reach figures that are, on average, about 40mm longer than the now obsolete SB5.5.
A cool hinged shock mount teams up with eyelets moulded off the top tube to make it happen. Yeti's patented Switch Infinity linkage hides behind the seat tube, too (above).
As mentioned previously, day-to-day practicality was a key design tenant for the SB range, and the SB130 - like its two siblings - can now accept a bottle in the front triangle (below). 
The SB150 previewed a few new features for the brand in 2019, including cable-in-cable... err, cable routing, which should make maintenence easier and the bike quieter. There's no front derailleur mount on the SB130, but there are ISCG mounts for a chain guard. 
As you'd expect, the Yeti won't come cheap, but an entry-level T-Series frame (which uses a heavier carbon layup) combined with Fox Performance suspension and SRAM Eagle NX could cost around $7500.
As well, there's talk that a top-spec C-Series frame will be offered in Australia, with top-shelf Fox FactoryX2 kit and lower-spec components to keep the retail down to around the nine grand mark.
And yes, this is a big ticket number, but Yeti has also announced that all its frames from 2019 onwards will be covered by a 'no BS' lifetime warranty to the orginal owner. Given that the SB130 could be either built down to a weight or up to strength, it certainly takes the sting out of the initial purchase price.