Marzocchi Bomber CR coil shock
Marzocchi, the Italian suspension powerhouse went through unprecedented times of financial hardship to the point where no-one actually knew if they would ever be seen in the world of modern mountain biking again. In 2015, Tenneco, the parent company of Marzocchi, announced it would close its doors. It was only six months later that the Marzocchi brand was acquired by Fox Racing.
During the transition, there was a lot of speculation about what the outcome of this would mean, and in the grand scheme of things, it's still early days, with only two forks, one shock & one dropper seat post being made available so far underneath the Big M banner.

So what of the new 2019 Bomber CR coil? Well, without delving into a lengthy and potentially heated discussion around air shock vs coil shock (that's for another time and a far longer article), let's dive head first into what makes the simplicity of the Bomber CR so refreshing when, in a world that's so full of adjustment options, half the time you don't know which setting to choose!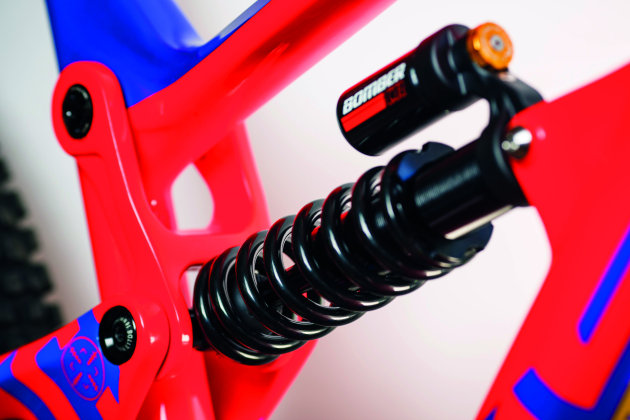 To the the eagle-eyed mountain biker who's been on the scene for a while now, they may notice that the Bomber CR strikes a close resemblance to the Fox Vanilla RC, and they'd certainly be right, but this isn't in any way a bad thing. The Bomber represents a true set-and-forget package. It offers rebound and low speed compression adjustment, coupled with any spring rate you could dream up, meaning you'll be able to find that sweet spot whatever your bike or riding style. The minimal amount of dials on these units may seem to some like it's taking a step backwards rather than advancing what's possible for suspension, but hear me out on this one. The shock that was taken off my bike when I fitted the Marzocchi unit had twice the amount of settings, plus the puzzle of air and the forever elusive question of how many tokens should I have.

On another trail bike, I have a coil shock with HSR, LSR, HSC & LSC and I'm forever fiddling with it. Within 20 minutes of fitting the Bomber with the recommended 450LB spring, I found the correct settings and have only slowed down the rebound by one click since then. It's this simplicity that lets you look past the feeling of what your bike could or even should be feeling like at any given moment and instead gives you a confident feeling of being at one with the way the shock and linkage work together in order to eat up the trail with glee. But, having said that, it does much more than just eat up the trail. I can say this with confidence because I've had a great deal of experience on coil shocks on downhill, trail and enduro bikes. This shock took my Intense Carbine from a bike that already felt like a pure-bred race machine into a descending animal.

I'm sure there will be people that get to this point in the article and still won't consider the Bomber at all because they perceive the lack of adjustment options as a negative, but it really isn't. Also, the price of this shock is a huge factor. It performs well but is still a basic unit, so that means it's not going to cost an arm and a leg to get.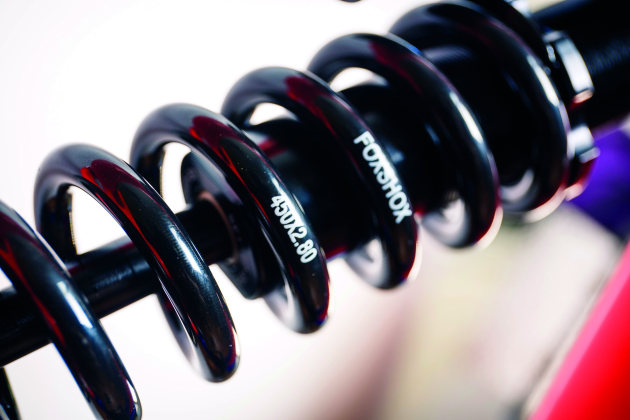 You can ride the shock for a while, really figure out what characteristics you want to change, get a custom tune done and you'll end up with a shock that's better suited to you and your bike than you'd ever think, all with more than a few fun tokens left over in your back pocket. Unfortunately, the biggest deal breaker for some, which is not something that can be added on at a later date, is a climb switch or lockout lever. The low speed compression can be adjusted to reduce a great deal of 'pedal bob', but it's in the nature of coil shocks to have some inherent bob while climbing.

So, who's this shock aimed at? Realistically, it's aimed at the rider who wants to try out a coil shock without the need to drop huge amounts of money, instead preferring to spend their hard-earned wonga on other gear. But I really do think it goes much further than just price.

The reliability that comes from the Bomber's simplicity is something that gets overlooked far too often in the mountain biking world at the moment. The 'bombproof' persona that Marzocchi was known for and has wanted to maintain since its inception was so important to them that they literally put it in the names of their products. This same feeling lives in the current post-Tenneco incarnation of Marzocchi, and that's a really important thing. It's so refreshing to see a company these days put performance and feel as a priority above weight and technology, with more dials than their competitors. The Marzocchi Bomber CR will suit anyone who lives for the descent and who has confidence in the overall workings of their suspension and not just their shock settings.

Marzocchi, you nailed this one!