BIKE REVIEW: Merida BIG.TRAIL 500
When it was first released in 2016, the Big Trail aimed to bring some fun to the world of hardtails. It came about when plus-size tyres were all the rage and was equipped with 2.8-inch wide tyres. The bike also had a 130mm travel fork, short stem, 760mm wide bars and the geometry was pretty progressive for a hardtail of that era; 67.5-degree head angle and short 427mm stays. It certainly broke the mould of the stereotypical Merida XC hardtail but time has marched on, and the reach and seat tube angle of the 2016 edition now look pretty dated.
For 2021 the bike gets a complete face-lift and while their intent remains unchanged, the new Big Trail features geometry and specs that bring it up to speed with current trends. Before we launch into the design intricacies, let's take a look at the models and pricing...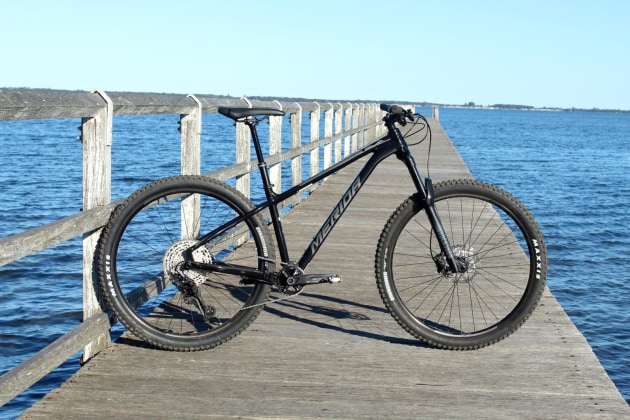 Merida offers the Big Trail in four models ranging from $1,249 up to $2,299, and all are based on the same template—they share the same TFS alloy frame, wide tubeless-ready rims and a mid-travel suspension fork. What varies is the quality of the parts spec...
In the stand
The line-up kicks off with the Big Trail 200. For the humble asking price of $1,249 this bike comes with a Suntour XCM32 fork which offers 120mm of travel, 32mm stanchions and a lock-out. While it's coil sprung and oil damped, the XCM is a very basic suspension fork—it'll do the job for a beginner but you shouldn't expect too much from it.
The drivetrain is Shimano Deore 1x10, complete with the shiny new Deore cranks—they look very up-market on a bike at this price-point. While the 11x46 cassette found on the 10-speed drivetrain isn't as impressive as the 11 and 12-speed models, it still provides a great gear-spread for most trails and fitness levels.
The brakes are the Tektro M275; they're the same twin-piston full-hydraulic stoppers that you'll find on the next two models up in the Big Trail range. Likewise, the wheels are shared between the three most affordable Big Trail models. They feature tubeless-ready rims with a healthy 29mm inner-width, laced to Shimano MT400 hubs with stainless steel spokes.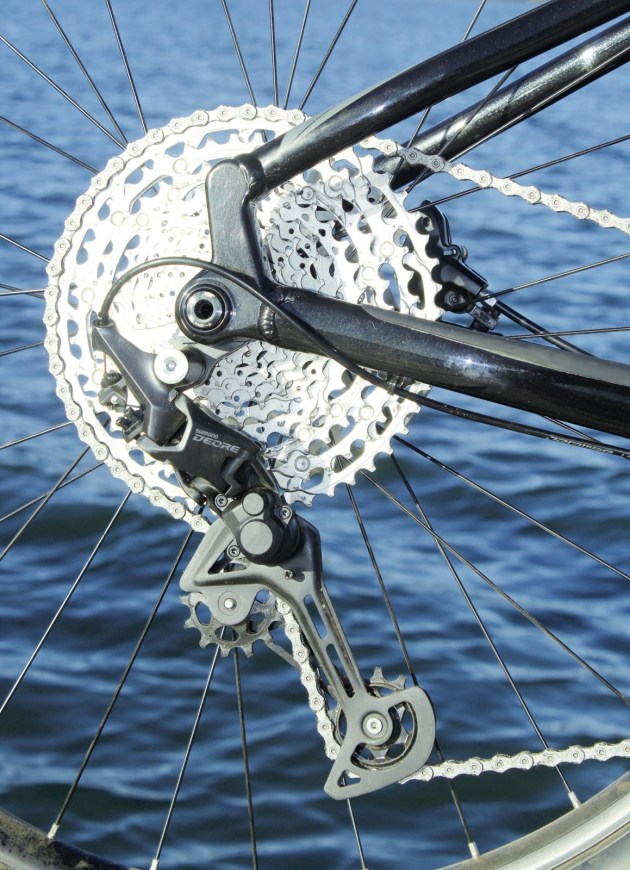 If there's one absence that is going to impact on the bike's performance, it's the lack of a dropper post. The base level Big Trail 200 comes with a fixed-height post; at least Merida provides a quick release clamp to make height adjustment an option at the top of a long descent.
For a few hundred dollars more, the Big Trail 400 goes a long way towards fixing the pitfalls of the base model. At $1,599 the 400 gets a Merida branded dropper post; it's the same one that you'll find on every model aside from the base-spec. The fork also gets an upgrade; while it still comes from Suntour, the XCR34 LOR features bigger 34mm inner legs, a rebound adjuster and 140mm of travel to boost the rough terrain performance. Beyond that, the 400 is basically the same as the entry-level model.
Next in line is our test bike—the $1,849 Big Trail 500. Here you get two big-ticket upgrades; a 140mm travel RockShox Recon Silver RL fork and it also makes the leap to Deore 11-speed, with a huge 11-51 gear spread on the cassette. Other hop-ups include the wider 780mm trail bars (up from 740mm) and a tidier bolt-up seat post clamp (no need for a QR when you've got a dropper anyway).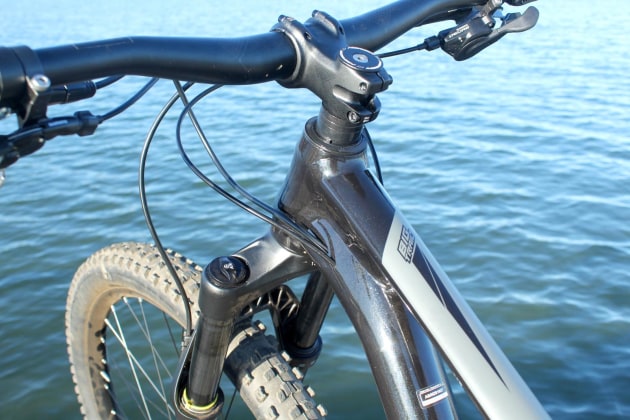 Topping the Big Trail line-up is the 600; a model that sells for $2,299. For an extra $450 you get a Marzocchi Z2 Bomber fork (the travel remains at 140mm). The drivetrain is still Shimano Deore but steps up to 12-speed and gains a 10-51 cassette for an even broader gear range. Shimano also takes on the braking duties with the Deore-level MT-4100 two-piston stoppers as opposed to the Tektro brakes used on the other models. It's a compact spread of models that doesn't get too extravagant at the upper end; perfect for those riders looking to hit the trails without smashing their bank balance!
Regardless of the model you choose, the frame remains constant—same tubing, geometry and finish quality throughout. It's a nicely finished frame too, with smooth welds and subtly formed 6061 aluminium tubing. Cleverly shaped stays provide plenty of clearance for 2.5-inch wide tyres and Merida has included a host of fittings/mounting points to expand the versatility of this platform...
To start with, you'll find not one but two drink bottle mounting points on the down tube, plus an extra mounting point under the top tube where you could fit a multi-tool, pump or small storage container. On my medium-sized test bike, there was only room for small bottles when using both positions on the down tube, but that still totals 1.2 litres of fluid versus 850ml for a single large drink bottle. Combine the water carrying capacity with the ability to store spares/tools and a pump, and you'll always be able to hit the trails without a pack—something that I always appreciate.
The Big Trail also features Euro-style versatility with a range of extra fittings. It has rack and fender mounts as well as a spot for a kick-stand of all things. They're all subtly hidden and you wouldn't know they're there unless you look closely but it means this trail hardtail can easily morph into a commuter, touring bike or general-purpose shopping trolley!
Internal cable routing and thru-axles are standard across the board and Merida also includes a 5/6mm allen key that's integrated into the rear axle. This ensures you've always got the tools on hand for front wheel removal and allows you to make other adjustments/fixes as required on the trail. This isn't just an affordable hardtail, it's a tidily executed and well thought-out trail bike.
On the trail
As far as mountain bikes go, hardtails are the epitome of simplicity—just set the fork up and go. There's no anti-squat or leverage rates for the bike designer to worry about and any 'give' offered by the frame is going to be mostly superficial. What really makes or breaks a hardtail is the frame geometry. Merida touts the Big Trail as having 'modern trail geometry' so let's take a closer look...
The head angle comes in at 65.5-degrees; not quite as slack as some hardcore-hardtails but pretty relaxed in any case (it's 2-degrees slacker than the original Big Trail). The seat angle is 75.5-degrees; again there are bikes that are steeper but it's still 2-degrees steeper than the previous version. The reach and wheelbase is longer too; our medium had a 435mm reach and 1,172mm wheelbase while the large jumps to 455mm and 1,196mm. It's not as progressive as something like a Norco Torrent (64/76-degree head/seat angle, 450mm reach and 1203mm WB on a medium) and even the new Giant Fathom is longer but the numbers are still pretty modern—I'd consider it 'conservatively current' if there's such a thing.
On the trail this mix of numbers combines with the voluminous 2.4 Maxxis Dissector tyres to make the Big Trail a confident handler in most situations. Sure, it's not as crazy-slack and long as some, but this pays dividends on trails that aren't that intense—and let's face it, that's where a hardtail is more likely to be ridden. At 65.5 degrees the head angle is slack enough, and it combines with the reduced off-set (42mm) RockShox Recon fork to further improve stability. If you think hardtails are just for XC racing, then you really need to take something like the Big Trail for a thrash. On most trail networks it'll barely hold you back and can be pushed pretty darn hard—just drop the post and go!
With its basic Motion Control damper, the 140mm Recon feels less controlled and sophisticated than a more upmarket fork. It's not that supportive and dives a bit under braking but you can't really complain when the price of the complete bike isn't that much more than a Pike Ultimate. If performance is a premium, going to the Big Trail 600 would be worthwhile, as you'll gain a more advanced damper and slightly better brakes. Ignoring the expectations of a spoilt bike tester who generally rides a $10K carbon dually, the Big Trail was a blast. I was taking on all of my usual trails and still having loads of fun with its cut-back simplicity.
To make the most of my time and minimise flats, I converted the tyres to tubeless. Both the rims and tyres are 'tubeless ready', although you're meant to apply some proper tubeless tape to the rims. I skipped this step and simply added valves to the stock nylon rim strips. It worked and held air just fine throughout the review. Measuring 29mm between the bead hooks, the rims offered good support to the 2.4-inch tyres and allowed for low tyre pressures; exactly what you need on a hardtail.
One of the real stand-outs was the Deore drivetrain. I really couldn't fault the shift quality; gear changes were seamless, silent and smooth. Give me a double blind test and I reckon I'd have a hard time picking the difference between Deore and the top-level XT and XTR drivetrains. The Deore parts look good too, and the steel chainring will last longer than the more expensive alloy models. The downside comes with added weight; the Big Trail tipped the scales at 14.4kg without pedals. Not light but that's the price you pay for affordability.
To assist with chain security, the Big Trail comes fitted with a top-guide. It clamps around the seat tube via a bracket. I'd have preferred to see ISCG mounts around the bottom bracket but it's hardly a deal breaker. On the plus-side Merida runs SRAMs 'Universal Derailleur Hanger' (UDH). This is a standardised hanger that's intended to make replacements easier to come by in the future—hopefully the industry runs with it as the concept appears to be sound.
The Merida-branded dropper was easy to setup, offered plenty of travel and had a light/smooth action. Medium, large and extra-large bikes come with 150mm of drop while the small version has a 125mm dropper. Ours developed some fore-aft play when topped out but this could be a one-off; I've spent quite a bit of time on Merida droppers in the past and haven't encountered this previously.
If there was one thing that bugged me about the bike, it'd have to be the cable rattles and routing. With one small entry-point on the right side of the head tube, the brake hose is forced to make a tightly radiused turn into the frame that is prone to rubbing—it's clearly designed with Euro/US style right/rear braking in mind. The cables exit via a large opening under the bottom bracket. While this does make cables easier to install, it also allows them to rattle loosely inside the downtube. It was irritating but not that hard to rectify; I made it quieter by bunching all three lines together and securing them with a cable tie. This helped but slipping a foam sleeve over each cable and inside the downtube would fix it completely, it'd just be a hassle to install.
Verdict
At the end of the day, the parts did the trick, allowing me to hit the trail without giving them a second thought—and that's a complement. Straight out of the box it comes with everything you need; tubeless compatible rims/tyres, long travel dropper, chain guide and an excellent drivetrain. The brakes could be better if you like to frequent steeper tracks but we can't complain on a bike at this price.
What the Big Trail really highlighted was just how far bikes have come in terms of handling and frame geometry. The combination of a 65.5 degree head angle with a reduced offset fork and decent (but not crazy) reach made this bike thoroughly capable and fun on the trail—it's not like the hardtails of old. With a good dropper and some travel up front the Big Trail will thrive on trail networks like Tarthra, Majura and Glenrock. By the same token this bike can rack-up and take you bike packing or double-duty as a commuter. For well under $2K it'll do just about anything you could ask of it, and that sounds like a pretty good deal to me!
Score
In the stand – 7/10
On the trail – 7/10
Overall - 7/10