The Obesity Cyclist - PART II
This is Part II. You can find Part I here!
A few days before I found myself on the Farley, I'd been with a bunch of travel journos and adventure travel industry types around Banff and Lake Louise. We'd had a brilliant week being looked after like kings by the locals – trekking, climbing and more. On the last day, with a few hours spare, I suggested a mountain bike ride. Our hosts organised bikes and half a dozen of us met, ready to ride, in the hotel lobby. "Ahem, I've just got a message from the bike hire place," said local tourism honcho Ryan "The bikes they've got for us are E-fat-bikes. Everyone OK with that?" I almost spat out my coffee.
I've written in opposition to E-bikes, had endless bar-side and trail-side conversations about them and had, to date, avoided riding one. Call me a Luddite but I'd rather get the exercise. "You still have to pedal," I've been told so many times by the converted.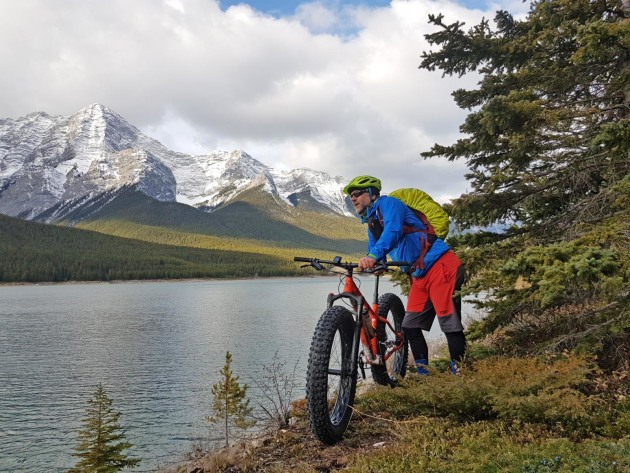 No doubt there are some good arguments for E-bikes. Commuting is one and indeed anything: public transport, motorbike, walking, cycling, E-biking, that removes a car from a road is a good thing. Some 'older' people could and do view E-bikes as a way of extending their riding pleasure. And lest you think this is written by some young upstart, I'm closer to 60 than any other milestone decade.
I'm well aware that the horse has bolted, that my voice is drowned by the whirr of those E-bike motors. The bike industry is so heavily invested in E-bikes of all types – MTBs, road bikes, commuter bikes - and the juggernaut moves on. We can and do all make excuses - too busy/too old/don't have time/want to ride further than my fitness allows. But we are in a time where so many people need to get more exercise than less, when the obesity crisis is one of the biggest health crises we are facing.
And so in Banff we picked up our E-fat-bikes and went riding. But it was not the ride I wanted; it turns out E-bikes are banned from riding off road in Banff. So we pedalec assisted our way on a town tour for a couple of hours. It was a freezing morning but I certainly didn't warm up as much as I would have on a traditional bike. Indeed, I reckon I used perhaps a quarter of the energy, the calories, as I would riding such a bike. Obesity cyclists indeed.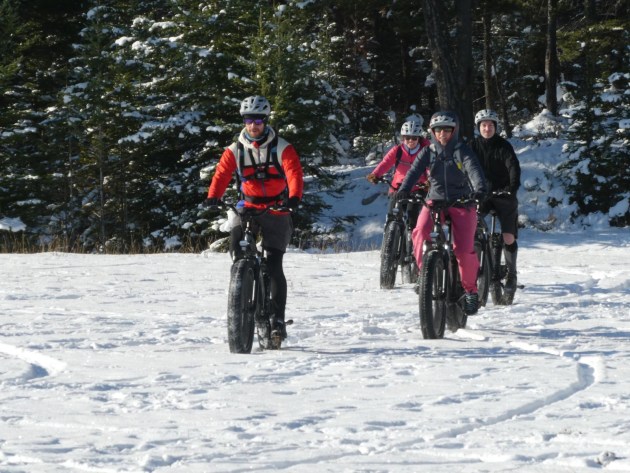 One of the greatest satisfactions of so many in being an mountain bike event organiser for 20 years, was in seeing people set one of our events as their goal for fitness, injury recovery or weight-loss. I'll never forget the 90kg rider who rode one 110km race telling me he had been 140kg a year earlier. Recently I was blown away by a man telling me the story of turning his life around in dropping from 250kg to 110kg.
I predict that in ten years, fifteen perhaps; traditional bikes will be an oddity. The majority will ask "Why would you not ride an E-bike? Why make work for yourself?" As a result the major manufacturers will focus their attention and pricing on the mass market.
I digressed somewhat from singing to myself on the High Rockies Trail. This twisting 80km route was plenty fun, plenty hard work on the (non E) fat-bike which nonchalantly rolled over roots and squashed into berms. Week-old snow crunched beneath rubber. Wherever the trail popped out of the forest, the spectacular Kananaskis peaks of The Rockies dominated.
Running late in the day, darkness approaching, I dropped off the trail onto a dirt road leading up the Spray Valley. Fat-bike became tank-bike as on-road riding showed up the weight and drag of such a bear of a bike. For a couple of kilometres I followed a pair of coyotes until I eventually arrived at the isolated Mount Engadine Lodge with calories burnt and toes numb from the cold. Soon though, with log fire roaring, a fine dinner in the stomach and a beer in hand, all was more than well. Isn't this why we ride, all of this? The tank emptied, the adrenaline released, the scenery seen, the tank filled, the aches, the cramps, the hot shower.
Overnight the snow bucketed down, a reminder winter was just around the corner. By dawn there was a good covering around the lodge. Coffee after coffee, pancake after pancake. I pulled on every bit of clothing I had with me and dragged myself away from the fire. Now it was my obese bike's turn to really do its stuff.