Eyes on EWS prize as Sam Hill claims second in Whistler
GT rider Martin Maes has finally won his first – and not his last – Enduro World Series round, the one-day classic held in Whistler, Canada, as part of the Crankworx festival.
The Belgian (above) finished all five stages of round six in second place, save for a victory on the final leg. Hill's race was more circumspect, with the defending champ finishing between third and sixth over the course of the day.
Despite rain early in the week, the stages were dry, fast, brutal and long.
Hill (below) brushed aside suggestions he was riding with an eye on the overall score. "I'm pushing it," he told reporters. "People are going too fast not to push it."
Maes has pushed the West Aussie Nukeproof/CRC rider hard all year, and this victory has moved him into second overall, and past Frenchman Damien Oton who finished down in 12th.
New Zealand downhill racer Eddie Masters (below) actually opted to sit out the World Cup DH event at nearby Mont Sainte Anne in favour of the EWS round, and his decision was rewarded with a fine third place aboard Pivot's new Firebird 29.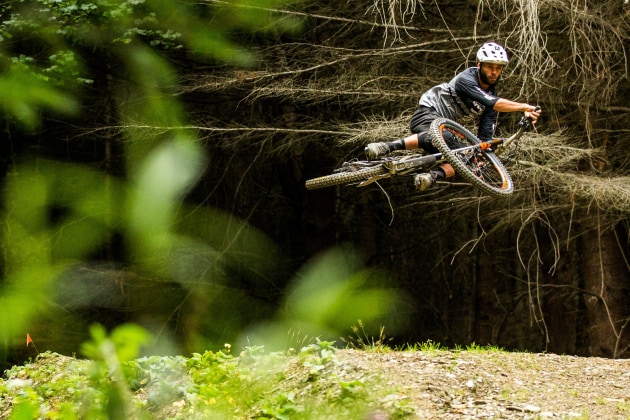 Hill takes a healthy points cushion into the final two rounds – held in September in Spain and Italy, respectively – but Maes is in scintillating form at the moment.
A ray of hope for beleaguered former champ Jared Graves this weekend, who shook off a horror start to 2018 to place seventh in Whistler. "Started finding my groove at the end of the day, and feeling amped to feel that way again," he reported.
Bad news, though, for Giant racer Josh Carlson, who tore the ligament off a thumb in a huge pre-event crash. He'll miss the rest of the EWS season as a result. "Where I crashed and how hard I crashed, I'm actually pleased that's all that I hurt," he said.
Meanwhile, Commencal's Cecile Ravanel (below, chasing team boss Cedric Gracia in practice) clean-swept all five stages in the women's event to record her sixth victory in as many rounds, virtually guaranteeing her the overall for 2018.